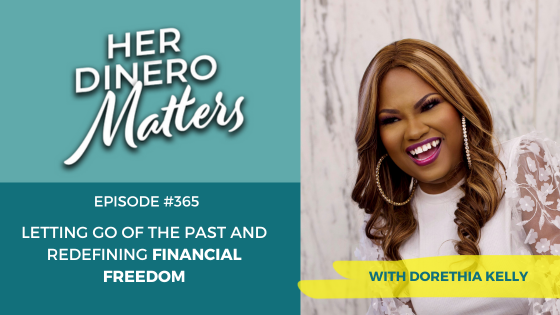 Have you ever found hidden meaning in the most unexpected places? Today, we journey through the intimate connections we make with objects and experiences. From that untouched pack of ramen noodles lurking in your pantry to the subtle memories that resurface in everyday situations, we uncover the profound impact they can have on our financial mindset.
We all have moments when we hold on to our past, and it doesn't do us any favors. Facing our past experience is an absolute must. Embracing this releases us to reshape our personal vision of financial freedom. You are going to see why this is the case in our conversation with guest Dorethia Kelly.

She's a personal finance and business coach, author and CEO of #moneychat with a proven track record of empowering individuals through coaching, keynotes, and her enriching online courses. Dorethia has also been recognized by the likes of CNBC, Black Enterprise, U.S. News, USA Today, and Experian.
What you'll learn about in today's episode:
Dorethia's top piece of advice about getting out of debt.
The biggest mistake that people make when it comes to managing their money.
What key question you can ask yourself to help you achieve financial freedom.
Dorethia's recommendation on when it is not favorable to have a credit card.
Listen to the Episode Below
You can also watch on YouTube!
Resources from this episode:
Dorethia's website: dorethiakelly.com
**Dorethia's book: #MoneyChat: How to Get Out of Debt, Manage Your Money, and Create Financial Freedom
**Please note the link is an affiliate link so I may receive a small commission if you purchase**
Related Her Dinero Matters episodes you may enjoy:
#330- Overcoming Debt and Achieving Financial Freedom
#24 – What It Takes to Become Financially Fit with Sara Chevere
#21 – Saving For Her Freedom With Mabelle Suriel
☕️☕️☕️☕️☕️☕️☕️☕️☕️☕️☕️☕️☕️☕️☕️☕️☕️☕️☕️☕️☕️

Get involved in our community:
Join the conversation in our community on Facebook: jenhemphill.com/community


Want to get social? Let's connect more on Instagram @jenhemphill
Enjoy the Show?
Be sure to never miss an episode by hitting the subscribe or follow button on your favorite podcast app! Get instant notifications of the latest episodes now!
Be sure to share with a friend (or two)! You never know what someone is going through in their financial life. Here is a tweet you can share now:
If you listen on Apple Podcasts you can review THERE. If not you can go HERE to review on Podchaser! THANK YOU!
Have Feedback?
Send us feedback via email to support@jenhemphill.com or click here to leave a voicemail.
The post, Letting Go of the Past and Redefining Financial Freedom | HDM 365 appeared first on the Her Dinero Matters Podcast.