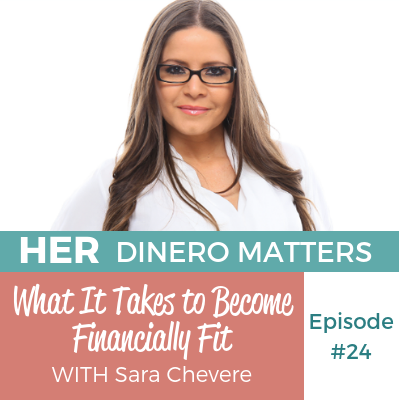 Becoming financially fit takes more than budgets and saving money.
Surprised? Being financially fit goes beyond what we typically are told to do.
Financially fit essentially means having the money you need, when you need it.
Yes planning your money (aka budgeting) and saving money is a part of this equation. What happens when you find yourself in this cycle of starting/stopping with budgeting, saving money then taking it right back out?
Sara Chevere shares with us her story that included loosing it all and what she has learned in her journey.
Sara has been in the Finance and Mortgage Industry for over 17 years and mentoring and coaching for over 10 years.  She loves to talk about money, and her vision and mission are to educate and empower you to have the confidence to achieve financial freedom.
Listen to the Episode Below
What you'll learn about in today's episode:
What happened when she lost it all and didn't have a plan B

Some activities you can do to improve your mindset

3 things to consider when investing
Tips to make the best out of this episode:
Listen with an open mind
Take one nugget from the episode that resonates with you and ask yourself "how can I apply this to my financial life right now?"
Resources From This Episode:
Loving the podcast?
Make sure you share either this episode or the podcast itself with a friend as you never know that what she gets out of it may be the push and inspiration she needs to move forward in her financial journey.
I want to hear from you!  What was your favorite takeaway from this episode? Please come on over to our community and share with us there.
You can join our community (and receive our weekly newsletters) by grabbing The Daily Dinero Ritual!
Abrazos + Much Love,
Jen
P.S. ¡GRACIAS por escuchar! THANKS for listening!
The post, What It Takes to Become Financially Fit with Sara Chevere | HDM 24 appeared first on the Her Dinero Matters Podcast