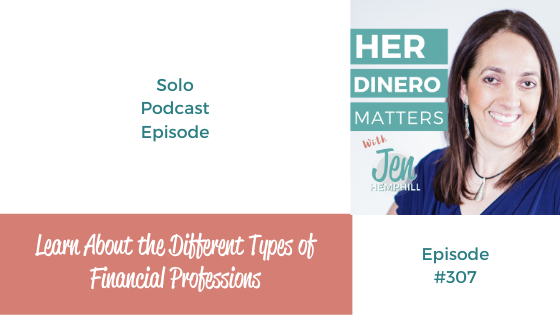 Being a part of the Latinx community, we come from countries where many of the options that we have here in the U.S. do not exist, It is no different in regards to financial professions and services. What may exist in the U.S. doesn't necessarily exist in our respective countries.
The different types of financial professions has been growing and so has our need to understand them. My main goal for this episode is to provide you with the necessary information about what they do or don't do so you can make the best choice for you given your unique circumstance.
What you'll learn about in today's episode:
Listen to the Episode Below
Want To Listen To Certain Parts Of The Episode?
Hover Over The Minute Mark Below And It Will Take You To That Part Immediately. 🙌🏽
↳10 +types of financial professions. [3:25]
↳Other providers of services and education. [15:14]
↳Some things to consider and keep in mind when choosing to work with a financial professional.  [21:57]
Resources From This Episode:
Click here to watch this episode on YouTube!
Previous episode referenced:
Learn more about professional designations:
We just finished our second Financially Strong Latina and you all want to learn more… which I love!!! This is why we will be planning different on demand workshops. If you are interested in learning about a specific topic, let us know by filling out this form!
Follow us on your favorite podcast player and review! If you listen on Apple Podcast you can review THERE. If not you can go HERE to review on Podchaser! THANK YOU! 😉
☕️☕️☕️☕️☕️☕️☕️☕️☕️☕️☕️☕️☕️☕️☕️☕️☕️☕️☕️☕️☕️
I want to hear from you!  What was your favorite takeaway from this episode? Come on over to @Jenhemphill on Instagram and share it with us there.
Abrazos + Much Love,
Jen
P.S. ¡GRACIAS por escuchar! THANKS for listening!
Enjoy the Show?
Be sure to never miss an episode by hitting the subscribe or follow button on your favorite podcast app! Get instant notifications of the latest episodes now!
Be sure to share with a friend (or two)! You never know what someone is going through in their financial life. Here is a tweet you can share now:
Have Feedback?
Send us feedback via email to support@jenhemphill.com or click here to leave a voicemail.
The post, Learn About the Different Types of Financial Professions | HDM 307 appeared first on the Her Dinero Matters Podcast.