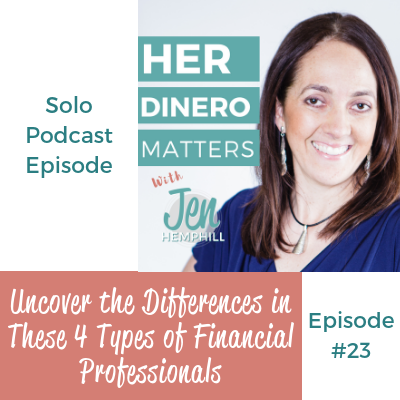 Have you ever wondered how to choose from all the financial professionals available? It can be confusing.
Even though money has been around for a long time, the personal finance field is still evolving which means new professions within the field are born over time.
We are used to hearing the terms financial advisor or financial planner, but now we have financial counselors and money coaches. (There are even financial therapists!) How do we know which professional we need?
We break down completely four of these professions in this episode.
What you'll learn about in today's episode:
Understanding the different financial professionals (we cover 4) and what they do and don't do.

3 questions to ask yourself to determine what type of financial professional you need

3 key factors to help you prepare before working with a financial professional
Resources From This Episode:
Her Dinero Matters Community (on Facebook)
I want to hear from you!  What was your favorite takeaway from this episode? Please come on over to our community and share with us there.
You can join our community (and receive our weekly newsletters) by grabbing The Daily Dinero Ritual!
Abrazos + Much Love,
Jen
P.S. ¡GRACIAS por escuchar! THANKS for listening!
The post, Uncover the Differences in These 4 Types of Financial Professionals | HDM 23 appeared first on the Her Dinero Matters Podcast