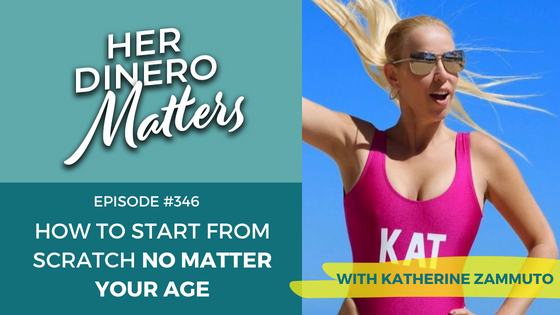 Can you imagine as a woman starting from scratch at any age while finding your true passion and achieving financial independence? It's crucial that we continue to address this topic head-on, and our special guest today is living proof of how it can be done.
Many of us were raised with the notion that men handle finances. While times have changed and women have made big strides forward, some people still hold onto this outdated idea, limiting a woman's potential.
Our community exists because we are dedicated to helping each of you achieve your version of financial freedom and reach your full potential..
Today's guest, Katherine Zammuto, will inspire you with her story to seek out and create opportunities, even when it seems challenging.
Katherine (Kat) Zammuto is an actress, entrepreneur, and the podcaster behind the popular podcast"Kat on the Loose" Kat on the Loose is a podcast that explores sex, dating, and relationships in an organic conversation format.
What you'll learn about in today's episode:
The Importance of women becoming financially independent.
Two key lessons Kat learned after experiencing a financial abusive relationship.
The main red flag to be aware of in a controlling partner
Listen to the Episode Below
You can also watch or listen on YouTube!
Resources from this episode:
Kat on the Loose Podcast: katontheloose.com
Related Her Dinero Matters episodes you may enjoy:
#143 – Financial Independence and How To Reach It With Doug Nordman
Increasing our Awareness of Domestic Violence and Economic Abuse – Monthly Recap
☕️☕️☕️☕️☕️☕️☕️☕️☕️☕️☕️☕️☕️☕️☕️☕️☕️☕️☕️☕️☕️
Get involved in our community:
Join the conversation in our community on Facebook: jenhemphill.com/community


Want to get social? Let's connect more on Instagram @jenhemphill
Enjoy the Show?
Be sure to never miss an episode by hitting the subscribe or follow button on your favorite podcast app! Get instant notifications of the latest episodes now!
Be sure to share with a friend (or two)! You never know what someone is going through in their financial life. Here is a tweet you can share now:
If you listen on Apple Podcasts you can review THERE. If not you can go HERE to review on Podchaser! THANK YOU!
Have Feedback?
Send us feedback via email to support@jenhemphill.com or click here to leave a voicemail.
The post, How to Start From Scratch No Matter Your Age | HDM 346 appeared first on the Her Dinero Matters Podcast.