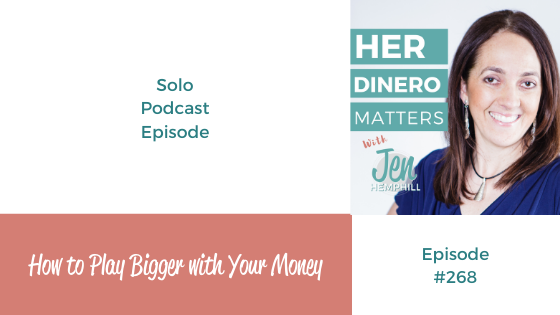 Are you aligning your actions with the goals that you really want or the goals that you think you should want? There is a big difference between the two. To achieve your goals and make your life vision come true, you need to know exactly what you want. What is important for you? What brings you joy? You have to trust your instincts, it's time to play bigger and do more for the things we really want.
 In this episode, I share with you why you may be focusing on the wrong types of goals. I also share with you two critical steps to make your vision a reality and 7 ways you can start living it right now.
What you'll learn about in today's episode:
Why you may be focusing on the wrong types of goals which is holding you back

Two critical steps to make your vision a reality

7 ways you can start living your vision right now when your belief may be lacking
Listen to the Episode Below
Want To Listen To Certain Parts Of The Episode?
Hover Over The Minute Mark Below And It Will Take You To That Part Immediately. 🙌🏽
↳Know what you want [2:03]
↳"End goals" versus "mean goals" (source Vishen Lakhiani and book: The Code of the Extraordinary Mind.) [4:52]
↳What are the "mean goals" [5:56]
↳What are the "end goals" [6:14]
↳Here is an example of a vision [10:15]
↳How much money will it take to create your vision? [12:12]
↳Make a list of why you are deserving [16:31]
↳7 ways you can start living your vision right now (inspired by the book WSABM written by Rachel Rodgers) [21:47]
Resources From This Episode:
**Rachael Rodger's book: We Should All Be Millionaires: A Woman's Guide to Earning More, Building Wealth, and Gaining Economic Power
**Please note the link is an affiliate link so I may receive a small commission if you purchase**
"Step-by-Step Guide to Setting Goals That You'll Actually Achieve" Article
Previous episode referenced: 
Click here to watch this episode on YouTube!
For all of those financially strong women who want to keep learning and taking control of their finances here is what you were asking for! Financially Strong Circle enrollment now open.  JOIN HERE! 
Follow us on your favorite podcast player and review! If you listen on Apple Podcast you can review THERE. If not you can go HERE to review on Podchaser! THANK YOU! 😉
You can join our community (and receive our weekly newsletters) by grabbing The Daily Dinero Ritual!
☕️☕️☕️☕️☕️☕️☕️☕️☕️☕️☕️☕️☕️☕️☕️☕️☕️☕️☕️☕️☕️
I want to hear from you!  What was your favorite takeaway from this episode? Come on over to @Jenhemphill on Instagram and share it with us there.
Abrazos + Much Love,
Jen
P.S. ¡GRACIAS por escuchar! THANKS for listening!
Enjoy the Show?
Be sure to never miss an episode by hitting the subscribe or follow button on your favorite podcast app! Get instant notifications of the latest episodes now!
Be sure to share with a friend (or two)! You never know what someone is going through in their financial life. Here is a tweet you can share now:
Have Feedback?
Send us feedback via email to support@jenhemphill.com or click here to leave a voicemail.
The post, How to Play Bigger with Your Money | HDM 268 appeared first on the Her Dinero Matters Podcast.