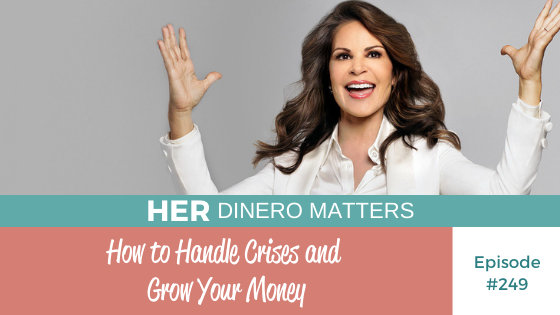 Figuring out how to handle crises is never easy. Whenever we face a crisis we often think of what we could have done to be better prepared for that time because we never know when the next crisis is coming.
The most important factor to take into account during a crisis is our mindset and how we deal with whatever life places in front of us. The way in which we respond to each crisis and what we choose to do with those life lessons play a big role in whom we become, therefore each crisis should be looked at as an opportunity to reinvent yourself.
Nely Galan, a self-made media mogul shares with us how to make yourself over and over again and take advantage of every crisis lived. She shares countless personal finance lessons that are sure to help you at different stages of your life. 
Listen to the Episode Below
What you'll learn about in today's episode:
Nely's resiliency through crises 

The power of believing in yourself

Why saving money is not enough to build wealth
Three Main Crises Faced by Nely
Throughout our lifetime we are faced having to handle crises and as Nely points out, some will be force majeure while others will be self-imposed. The crises that are force majeure are those that have nothing to do with you specifically, such as hurricanes, earthquakes, or a worldwide pandemic. The self-imposed crises are those that come up as a result of our own decisions.
Crisis #1: The struggles of being immigrants
When she was just 5 years old and her parents immigrated to the U.S. from Cuba. They moved in with an American family that sponsored them and they faced the struggles of being immigrants with the language barrier and having to work 12-hour day shifts at a factory to make ends meet.
Crisis #2: Family financial difficulties
While Nely was in 7th grade and could overhear her parents discussing money woes and their preoccupation with not having enough money to pay for her private school. Nely at this time felt a panic attack to help her parents pay for her school which led her to start selling Avon products to her friends and their moms in order to come up with the money.
She knew her dad would not approve of using her money to pay for her school so she paid the school and asked them to send a letter to her parents saying she had received a scholarship. This particular crisis helped her learn that she could fix any problem that would come up and at the same time she stopped being a little girl and since then she felt she had to be the parent.
Crisis #3: An accusation of plagiarism
When Nely was a sophomore in high school she had to write a paper for her English class. Her teacher thought she had plagiarized Ernest Hemingway and suspended her for 3 days. On top of this, her mother instead of siding with Nely, sided with the teacher and told her to go and apologize. This instance made Nely realize the fearful mindset her mother had as most immigrants do, and how they raise their kids to take the blame and avoid confrontations in fear of being kicked out of the country.
As it turns out, when Nely went back to school, the nun was the one that apologized when she realized the paper had not been plagiarized, but by this time Nely had already written an article and had sent it into Seventeen Magazine about why not to send your daughter to an all-girls school. Three months after the article was published and Nely was faced with having to tell her parents that she was expelled from school.
Through this crisis, Nely learned so many lessons not just about the power of the media, but also about the power of speaking up and standing up for yourself. All of this resulted in Nely's beginning in journalism, early graduation to keep the bad press away from the school and most importantly Nely taking big risks and reinventing herself.
Personal Finance Lessons 
All through the different moments lived by Nely, she has learned that your pain is your profit and to use it as your brand. She shares how everything she has done has been at a slow rate and not an overnight success. One of her bosses taught her that to make money in this country you need to make money while you sleep and Nely shares how this made an impact on her financial outlook.
She has learned to save money and always encourages women to save money for emergencies but also to start investing. She shares the importance of having a parallel track to money, your dream but also the thing that makes you money, because sometimes dreams work and sometimes they don't. One of her main tips is to move forward "adelante" and to get back on the horse when you fall.
"If you don't make fear and failure your best friend, you're not going to make it!" – Nely Galan
Resources From This Episode:
If you want to connect with Nely, visit www.becomingselfmade.com
Grab your copy of the Daily Dinero Ritual (it's free). 
Click here to watch this episode on YouTube!
☕️☕️☕️☕️☕️☕️☕️☕️☕️☕️☕️☕️☕️☕️☕️☕️☕️☕️☕️☕️☕️
I want to hear from you!  What was your favorite takeaway from this episode? Come on over to @Jenhemphill on Instagram and share it with us there.
Abrazos + Much Love,
Jen
P.S. ¡GRACIAS por escuchar! THANKS for listening!
Enjoy the Show?
Be sure to never miss an episode by hitting the subscribe or follow button on your favorite podcast app! Get instant notifications of the latest episodes now!
Be sure to share with a friend (or two)! You never know what someone is going through in their financial life. Here is a tweet you can share now:
Have Feedback? 
Send us feedback via email to support@jenhemphill.com or click here to leave a voicemail.
The post, How to Handle Crises and Grow Your Money with Nely Galan| HDM 249 appeared first on the Her Dinero Matters Podcast.