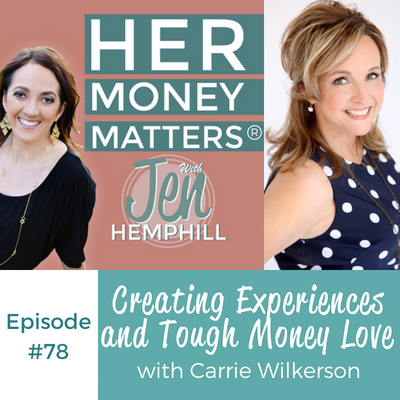 When we spend money we don't necessarily focus on creating experiences.
Instead we think about how much we spent, if we saved money and got a good deal.
Our special guest Carrie Wilkerson shares how she focuses on creating experiences in certain situations.
She also talks to us about the tough money love she instills in her kids and more!
Listen to the Episode Below
What You'll Learn In Today's Episode:
What she learned from her mom about side hustles before it was a "thing"
Why she re-wrote her money story and continues to do so from time to time
The impact she has experienced from creating experiences over the fancy restaurants and brand name clothing
Resources From This Episode:
How to connect with Carrie:  www.carriewilkerson.com
Her Money Matters Inner Circle spots are open, grab yours here.  (Get the details in Episode 76)
What was your favorite takeaway from this episode?  Please be sure to share with us in the comments below or over in our community on Facebook.
You can join our community (and receive our weekly newsletters) by grabbing The Daily Dinero Ritual!
Abrazos + Much Love,
Jen
P.S. THANK YOU for listening!
Enjoy The Show?
Be sure to never miss an episode:
Share with a friend by using the social media icons below.
Send us feedback via email to support@jenhemphill.com or click here to leave a voicemail.
**Please note I love to give shout outs to my listeners, so if you'd rather me not mention your email message or play your voicemail on the show be sure to clearly state that, thank you!**