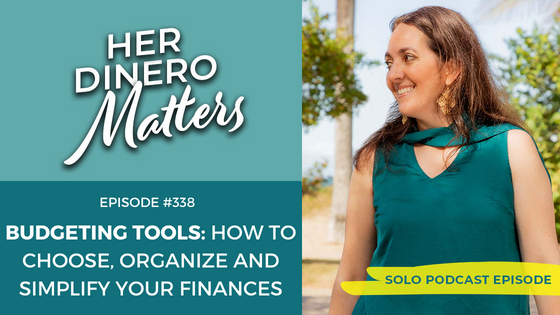 This episode is brought to you by my new class How To Win Paying Off Your Credit Card Debt In This Economy
Budgeting doesn't need to be complicated! There are plenty of great budgeting tools out there that make it easier to manage your finances, but how do you choose the best one for you with so many to choose from? Once you do choose, how do you not overwhelm yourself? And what is the trick for staying consistent? We discuss this and more in this solo episode. 
Creating a monthly budget can help you gain an understanding of your financial situation and set clear goals. With so many options available when it comes to budgeting tools, it can be overwhelming to decide which ones to go with. In this episode, I share several budgeting tools as well as help you figure out how to choose the best one for you without a headache.
What you'll learn about in today's episode:
Three key details to help you choose the budgeting tool for you
Why you should define financial responsibility for you.
One key tip on how to manage your finances without stress
Listen to the Episode Below
You can also watch or listen on YouTube!
Resources from this episode:
My new class: How To Win Paying Off Your Credit Card Debt In This Economy —–>>Listener Perk!!! Use the code: HERDINEROMATTERS for $10 off at checkout! **NOTE: Discount code available for a LIMITED TIME ONLY!**
Related Her Dinero Matters episodes you may enjoy:
#251 – How To Change Your Love – Hate Relationship With Budgeting
#94 – The Real Misunderstanding Behind Budgeting Which No One Talks About
☕️☕️☕️☕️☕️☕️☕️☕️☕️☕️☕️☕️☕️☕️☕️☕️☕️☕️☕️☕️☕️
Get involved in our community:
Join the conversation in our community on Facebook: jenhemphill.com/community


Want to get social? Let's connect more on Instagram @jenhemphill
Enjoy the Show?
Be sure to never miss an episode by hitting the subscribe or follow button on your favorite podcast app! Get instant notifications of the latest episodes now!
Be sure to share with a friend (or two)! You never know what someone is going through in their financial life. Here is a tweet you can share now:
If you listen on Apple Podcasts you can review THERE. If not you can go HERE to review on Podchaser! THANK YOU!
Have Feedback?
Send us feedback via email to support@jenhemphill.com or click here to leave a voicemail.
The post, Budgeting Tools: How to Choose, Organize and Simplify Your Finances | HDM 338 appeared first on the Her Dinero Matters Podcast.