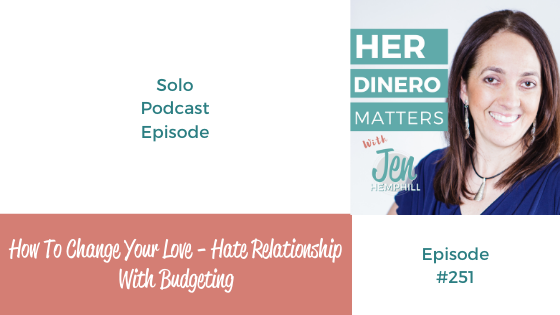 Changing your love-hate relationship with your budgeting is not as hard as it seems. In this solo episode, I share with you how to love the process if you are finding yourself not wanting to budget or are currently feeling defeated with it. 
Beware- budgeting takes some time and requires some patience.  It takes some tweaking, and retweaking to get to a point you are happy with it. Budgeting is about starting where you're at in this particular moment and taking tiny steps forward. Even with small steps… the further along you will be from where you began.
Listen to the Episode Below
What you'll learn about in today's episode:
8 reasons you don't want to budget

3 questions to ask yourself if you are finding yourself defeated with your budget

The 4 stages of money and how it determines how much time you put into budgeting
8 Reasons Why you Don't Want to Budget
The way it makes you feel.

It hasn't worked before.

Your significant other is not on board.

It "takes too much time".

You don't think you are making enough money to even budget. 

You don't like tracking your spending.

You don't have a steady income.

You don't know how.
3 Questions TO Ask Yourself if You Are Feeling Defeated With Your Budget
↳
Was it too restrictive?
 I know we have the best intentions, but those intentions may not be realistic. Be honest with yourself, what do you actually need? You need to assess if you are too restrictive with your budget. 
↳
Was it an accurate representation of all my expenses? 
 What about every single expense, including those expenses that aren't fixed or come on a regular basis? These expenses can include items like clothing, gifts, travel, or an annual or quarterly bill, etc. These are expenses that are typically left out which leaves us with an inaccurate representation of our expenses. 
↳
Did I choose a budgeting tool that makes sense for me and that I can be consistent with? 
It is good to look at the tools you have used in the past and ask yourself what you liked or didn't like. If you are deathly afraid of spreadsheets don't force yourself to use them! The budgeting tool will only help you if you use it so choose wisely. 
The 4 Money Stages
 Getting the budget where we need it to be, takes some time. You need to be aware of what money stage you are in to really understand how much time you need to spend on that budget and your finances.

I also go into more detail as well in an earlier episode (episode 94) on these money stages so be sure to check that out, but below is a brief glimpse of these stages:
↳
Stage #1: In complete chaos
 This is the stage where you need to track your money more diligently, it's going to take some time to get it all together,  always keep that in mind.
Budgeting Intensity: Non- existent (but very much needed) 
↳
Stage #2: Staring to get clarity
 Here you have better idea of what your financial picture looks like. You know the money you're making, and have a better idea of how you're spending it with tangible numbers whereas before you just knew you were spending money without any clarity. 
Budgeting Intensity: High
↳
Stage #3: Establishing systems in place
 In this stage you are putting some systems in place. Maybe you have decided to use cash every month for your groceries and you have a designated budget for that. You also may have decided to have a billing account where the only activity happening in this account is your paycheck is being deposited, paying your bills and transfers are going to your savings for example. You are not using a debit card for this account. Bottom line, things are happening, you're feeling good, your system is not 100%, but things are organized, your money confidence is there.
Budgeting Intensity: Medium
↳
Stage #4:  Systems are in place and working like a charm
 At this stage you have been using the system you implemented for a bit and worked out the kinks it initially had. You got all the clarity you need, you have a good plan in place with your budget, you implemented that plan with your systems, and things are working like a charm. You are feeling confident about your current financial life and future. 
 Budgeting Intensity: Low
Resources From This Episode:
Episode available on YouTube. Click here to watch it!
Buy My Kickstart and Finally Win With Budgeting Mini- Class with $10 off coupon. Click Here!
Previous episodes referenced:
204 – Loving Your Money vs Loving Money
94 – The Real Misunderstanding Behind Budgeting Wich No One Talks About
You can join our community (and receive our weekly newsletters) by grabbing The Daily Dinero Ritual!
☕️☕️☕️☕️☕️☕️☕️☕️☕️☕️☕️☕️☕️☕️☕️☕️☕️☕️☕️☕️☕️
I want to hear from you!  What was your favorite takeaway from this episode? Come on over to @Jenhemphill on Instagram and share it with us there.
Abrazos + Much Love,
Jen
P.S. ¡GRACIAS por escuchar! THANKS for listening!
Enjoy the Show?
Be sure to never miss an episode by hitting the subscribe or follow button on your favorite podcast app! Get instant notifications of the latest episodes now!
Be sure to share with a friend (or two)! You never know what someone is going through in their financial life. Here is a tweet you can share now:
Have Feedback?
Send us feedback via email to support@jenhemphill.com or click here to leave a voicemail.
The post, How To Change Your Love – Hate Relationship With Budgeting | HDM 251 appeared first on the Her Dinero Matters Podcast.