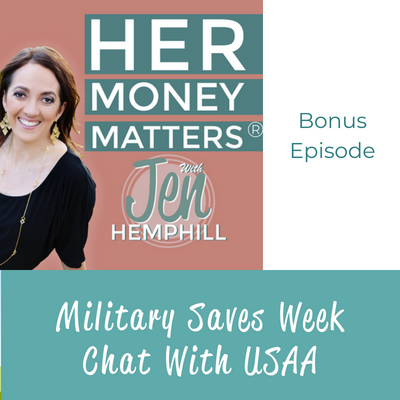 One thing that I want to be doing more of is helping to raise awareness of these campaigns that already exist (remember
Women's Money Week
back in January?).
Military Saves Week is a week is focused on you guess it-saving, but it does more than that as you will hear today.
We talk about what it is, the importance of this campaign, some success stories, and what USAA has done internally within their company (which is pretty cool).
Even though the official week happened February 27th-March 4th you can still take the pledge through the end of March.  I've taken the pledge, will you take the pledge with me?
Listen to the Episode Below
Some History On America Saves:
America Saves Week started back in 2007, it is an annual event where organizations can promote good savings actions and a chance for individuals to really take a look at their own saving habits.
Military Saves Week, as you probably guessed is more focused on the military population, but the message is the same.
During the designated week there are different events you can participate in so make sure you take a look at the website so you are in the know for next year.
My hope for today is to raise awareness that this campaign exists and for you to take the pledge.  I personally took the pledge as we saving for our "forever" home.
Resources From This Episode:
Military Spouse or Service Member?  Click Here To Take The Pledge!
To take the pledge on America Saves CLICK HERE.
I'm curious….is this the first time you have heard about America Saves/Military Saves?  If so, please let me know by commenting below or head over to our community on Facebook and letting me know there.
You can join our community (and receive our weekly newsletters) by grabbing The Daily Dinero Ritual!
Abrazos + Much Love,
Jen
P.S. THANK YOU for listening!
Enjoy The Show?
Be sure to never miss an episode:
Share with a friend by using the social media icons below.
Send us feedback via email to support@jenhemphill.com or click here to leave a voicemail.
**Please note I love to give shout outs to my listeners, so if you'd rather me not mention your email message or play your voicemail on the show be sure to clearly state that, thank you!**