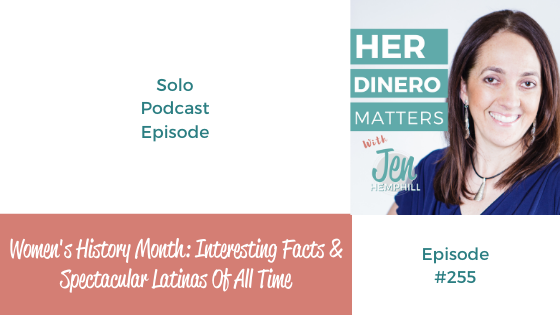 It's March and I'm excited to celebrate Women's History Month with you. Let's celebrate the strength, achievement, and resilience of women to go after their dreams. It's a perfect occasion to forge a gender-equal world and raise awareness against bias.
Did you know Wyoming refused to join the United States without a guarantee that women would be allowed to vote? In this episode, I share with you more of these interesting facts about Women's History Month. Also, I share who are the two most important women in my life and examples of some amazing Latinas who have made history in the world.
Listen to the Episode Below
What you'll hear about in today's episode:
The history of

Women's History Month

as well as some interesting facts

Latinas who have made history

The two women who have shaped me and why
Resources From This Episode:
50 Fascinating Facts For Women's History Month
8 Little Known Women's History Month Facts
10 Inspiring Latinas Who Have Made History
Financially Strong Latina is almost here! CLICK HERE TO GRAB YOUR SPOT (it's FREE) thanks to the sponsorship of AARP.
Do not forget (after registration) to go to the Facebook event page here! Mark "going" and this will give more visibility so more women can be in control of their financial life. Be sure to share with your familia and amigas. Thank you!
☕️☕️☕️☕️☕️☕️☕️☕️☕️☕️☕️☕️☕️☕️☕️☕️☕️☕️☕️☕️☕️
I want to hear from you!  What was your favorite takeaway from this episode? Come on over to @HerDineroMatters on Instagram and share it with us there.
Abrazos + Much Love,
Jen
P.S. ¡GRACIAS por escuchar! THANKS for listening!
Enjoy the Show?
Be sure to never miss an episode by hitting the subscribe or follow button on your favorite podcast app! Get instant notifications of the latest episodes now!
Be sure to share with a friend (or two)! You never know what someone is going through in their financial life. Here is a tweet you can share now:
Have Feedback?
Send us feedback via email to support@jenhemphill.com or click here to leave a voicemail.
The post, Women's History Month: Interesting Facts & Spectacular Latinas Of All Time | HDM 255 appeared first on the Her Dinero Matters Podcast.