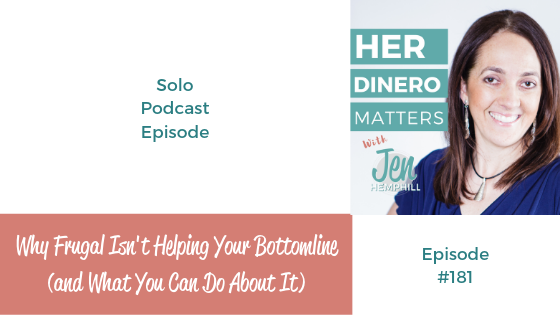 Do you consider yourself to be frugal?
Have you found yourself not seeing any changes from being frugal?
If so this episode is for you.
You see at one time in my life, I was extremely frugal.  I figured by being this way I would be able to save more money. I later learned that saving money by being frugal is possible but there is more to it than clipping the coupons or making your own laundry detergent.
Being frugal has allowed me to learn some surprising lessons which I want to share with you.
Listen to the Episode Below
What you'll learn about in today's episode:
The surprising lessons I have learned from my attempts in frugality.

The one question you need to ask yourself.

How to make frugal work for you.
Pregunta of the Week:
🤔 What is the one question you need to ask yourself in regard to the frugal actions you have been taking? 🤔
Use your free account in the Her Dinero Matters Hub to submit your answer and be one step closer to this month's freebie!
Have your free account? Click here to get taken directly to this week's question.
Don't have a free account, yet? No worries click here to get started (and submit your answer).
Resources From This Episode:
Nominate a mujer (woman) for Reina of the Week here: www.jenhemphill.com/reinaoftheweek
☕️☕️☕️☕️☕️☕️☕️☕️☕️☕️☕️☕️☕️☕️☕️☕️☕️☕️☕️☕️☕️
I want to hear from you!  What was your favorite takeaway from this episode? Please come on over to our community and share with us there.
Abrazos + Much Love,
Jen
P.S. ¡GRACIAS por escuchar! THANKS for listening!
Enjoy The Show?
Be sure to never miss an episode:
Share with a friend by using the social media icons below.
Send us feedback via email to support@jenhemphill.com or click here to leave a voicemail.
The post, Why Frugal Isn't Helping Your Bottomline (and What You Can Do About It) | HDM 181 appeared first on the Her Dinero Matters Podcast