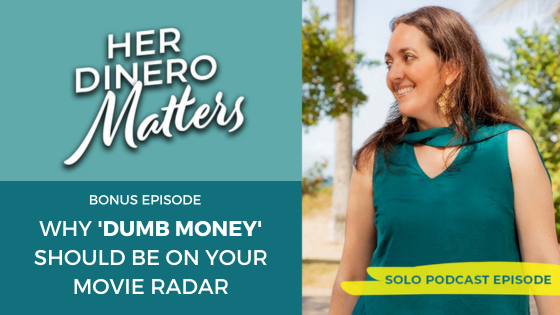 This episode is brought to you by Sony Pictures for the movie 'Dumb Money'.
Imagine turning a small investment or even that money debajo del colchón into a life-changing fortune while taking on Wall Street's wealthiest players. Eso es la locura behind the true story behind the movie 'Dumb Money.' In this bonus episode I share my thoughts on this real life story as well as why you should check out this movie!
This is a different type of episode, because I am talking about a new movie that is out but because it is about money you know I have to talk about it!
One thing I love is that this movie includes some of my favorite things: finance, comedy, and drama.
It is based on the incredible true story of everyday people who took on Wall Street and turned GameStop into a global sensation. Remember that?
It is playing in Theaters NOW in New York and Los Angeles, available everywhere September 29!
What you'll learn about in today's episode:
The incredible backstory of this movie based on real events
The 3 top reasons you should watch the Dumb Money movie
Plus, share my profound hope for this movie, and the specific conversations I hope it ignites
Listen to the Episode Below
You can also watch on YouTube!
Resources from this episode:
Find a theater near you by visiting DumbMoney.Movie
☕️☕️☕️☕️☕️☕️☕️☕️☕️☕️☕️☕️☕️☕️☕️☕️☕️☕️☕️☕️☕️

Get involved in our community:
Join the conversation in our community on Facebook: jenhemphill.com/community


Want to get social? Let's connect more on Instagram @jenhemphill
Enjoy the Show?
Be sure to never miss an episode by hitting the subscribe or follow button on your favorite podcast app! Get instant notifications of the latest episodes now!
Be sure to share with a friend (or two)! You never know what someone is going through in their financial life. Here is a tweet you can share now:
If you listen on Apple Podcasts you can review THERE. If not you can go HERE to review on Podchaser! THANK YOU!
Have Feedback?
Send us feedback via email to support@jenhemphill.com or click here to leave a voicemail.
The post, Why 'Dumb Money' Should Be on Your Movie Radar | Bonus Episode appeared first on the Her Dinero Matters Podcast.