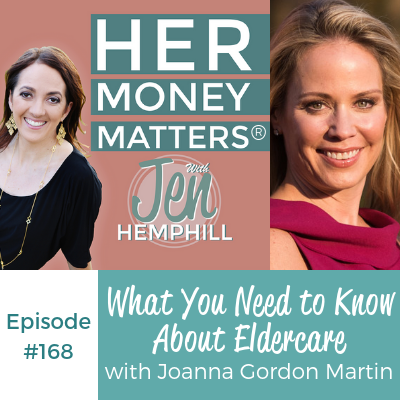 None of us are getting any younger.
There are so many unknowns with aging that preparing for the long-term is challenging. What we can do is be informed and one of the areas we need to be informed about is how to navigate eldercare.
Eldercare is a complex world, but fortunately we have Joanna Gordon Martin to share with us what we need to know.
Listen to the Episode Below
What You'll Learn In Today's Episode:
The impact seeing her mother become a caregiver for her father had on her

What she did with the frustration she encountered with the complexities of eldercare when dealing with her aging mom

Her top 3 tips in when navigating eldercare
Resources From This Episode:
I want to hear from you!  What was your favorite takeaway from this episode? Please come on over to our community and share with us there.
You can join our community (and receive our weekly newsletters) by grabbing The Daily Dinero Ritual!
Abrazos + Much Love,
Jen
P.S. THANK YOU for listening!
Enjoy The Show?
Be sure to never miss an episode:
Share with a friend by using the social media icons below.
Send us feedback via email to support@jenhemphill.com or click here to leave a voicemail.
**Please note I love to give shout-outs to my listeners, so if you'd rather me not mention your email message or play your voicemail on the show be sure to clearly state that, thank you!**
The post, What You Need to Know About Eldercare with Joanna Gordon Martin | HMM 168 appeared first on the Her Money Matters Podcast.