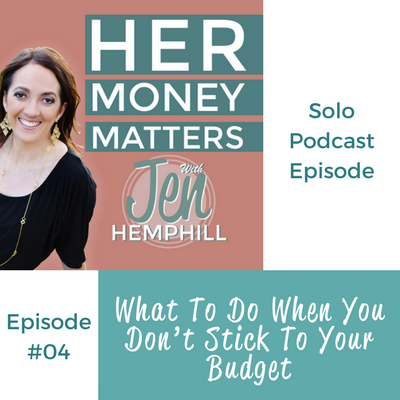 Have you found yourself starting on a budget but then leave it deserted and nowhere to be looked at again?  Or maybe you have all the intentions of starting a budget but you quickly run away at the thought or anytime you hear that word?  If so, this episode is an absolute must for you.
If you are ready to talk about budgeting and ready to learn what you can do when you don't stick to a budget all you need to do is press play.  Let's do this!
Listen to the Episode Below
What You'll Learn In Today's Episode:
2 questions you need to ask yourself when you find yourself not sticking to a budget
Why all roads lead to the budget (there's no getting around not having one–especially if you are just starting to figure your finances out)
How to pick the right tool for your budgenality (my word for your budget personality)
How to set yourself up for success (for real this time)
Now I'm casting the spotlight on you and giving you a task.  Take 5 minutes and write down the answers to the 2 questions:  #1.  What is it about a budget that stops you in it's tracks?  #2.  Then ask yourself why.  Make sure you write all your thoughts down!
I'd love to hear from you!  Be sure to leave me a comment in the comments section below and tell me if you completed the task :-).
Abrazos (**hugs**),
Jen
P.S. THANK YOU for listening!
Enjoy The Show?
Be sure to never miss an episode:
Share with a friend by using the social media icons below.
Send us feedback via email to support@jenhemphill.com or click here to leave a voicemail.
**Please note I love to give shout outs to my listeners, so if you'd rather me not mention your email message or play your voicemail on the show be sure to clearly state that, thank you!**