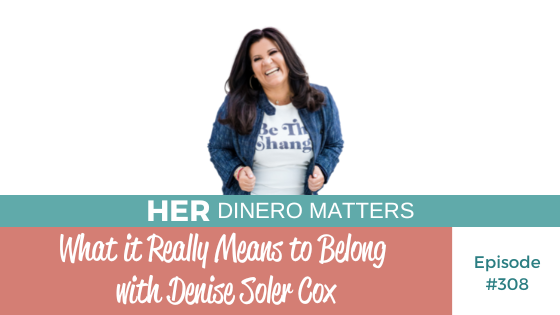 Have you ever felt that because you are a Latina living in the U.S. you are "ni de aquí, ni de allá" (not from here nor from there)? This is something I personally struggled with, I was never Latina enough, but never American enough and I know I am not alone. I invited the "Queen of Belonging" to this episode, so she can help us unpack and transform how we think and speak about culture, identity and what it really means to belong.    
In this episode, Denise Soler Cox, award-winning activist filmmaker, Top 100 podcaster, and sought-after Fortune 500 speaker, also shares with us her experiences around money and specific stories on how it impacted her life. We also learn what sparked her interest as a filmmaker and the distinct financial challenges she faced during the process.
What you'll learn about in today's episode:
What sparked Denise's interest as a filmmaker

The making of her first film and the distinct financial challenges she faced

A sneak peek on her upcoming book
Listen to the Episode Below
Want To Listen To Certain Parts Of The Episode?
Hover Over The Minute Mark Below And It Will Take You To That Part Immediately. 🙌🏽
↳Denise's upbringing and experiences around money. [3:02]
↳The pronounced details and impact her money memories had in her life. [5:37]
↳The unmistakable shift Denise had and why it was impactful. [7:44]
↳What exactly sparked Denise's interest as a filmmaker. [10:57]
↳Details behind her first film Project Enye, and what an Enye is. [16:31]
↳The specific financial challenges in making the film (you won't believe what she sold) and how she navigated these times with her husband support. [22:05]
↳What her second film that is in the works is about. [30:16]
↳A sneak peek on her upcoming book. [32:41]
Resources From This Episode:
Connect with Denise: Denise Soler Cox
Click here to watch this episode on YouTube!
We just finished our second Financially Strong Latina and you all want to learn more… which I love!!! This is why we will be planning different on demand workshops. If you are interested in learning about a specific topic, let us know by filling out this form!
Follow us on your favorite podcast player and review! If you listen on Apple Podcast you can review THERE. If not you can go HERE to review on Podchaser! THANK YOU! 😉
☕️☕️☕️☕️☕️☕️☕️☕️☕️☕️☕️☕️☕️☕️☕️☕️☕️☕️☕️☕️☕️
I want to hear from you!  What was your favorite takeaway from this episode? Come on over to @Jenhemphill on Instagram and share it with us there.
Abrazos + Much Love,
Jen
P.S. ¡GRACIAS por escuchar! THANKS for listening!
Enjoy the Show?
Be sure to never miss an episode by hitting the subscribe or follow button on your favorite podcast app! Get instant notifications of the latest episodes now!
Be sure to share with a friend (or two)! You never know what someone is going through in their financial life. Here is a tweet you can share now:
Have Feedback?
Send us feedback via email to support@jenhemphill.com or click here to leave a voicemail.
The post, What it Really Means to Belong with Denise Soler Cox | HDM 308 appeared first on the Her Dinero Matters Podcast.