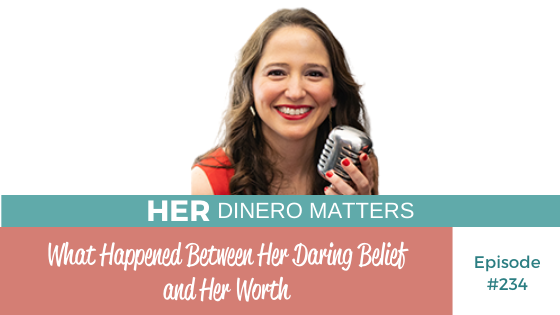 Belief vs. self-worth. Can you have a strong belief about money always flowing into your bank account yet not believe you are worthy of that money?
Tune in to today's episode with special guest Ina Coveney. She shares about the internal struggle that kept her stuck and not achieving some of her goals.
This is a fascinating conversation about how our thoughts affect our ability to create financial abundance. It's not just our thoughts about money that make the difference, but our thoughts about ourselves and our self worth as well. Don't miss it!
As a Global Online Presence Expert and founder of The Global Phenomenon, Ina Coveney helps new entrepreneurs gain the confidence and strategy to create global businesses from the start.
Ina is the host of The Global Phenomenon podcast and creator of the BE FOUND program, through which entrepreneurs learn business essentials and how to create a world-class online presence. She teaches online marketing for creatives, coaches, consultants, and authors online and in-person in the Boston area.
Listen to the Episode Below
What you'll learn about in today's episode:
The internal struggle Ina faced amidst growing up wealthy

The lessons she learned about having a career

The shock she experienced when arriving in the U.S. after leaving her country of Venezuela
Resources From This Episode:
Connect with Ina: https://www.inacoveney.com
Listen to the BRAND NEW Global Phenomenon Podcast (hosted by Ina) HERE: http://www.theglobalphenomenon.com/podcast/ 
Grab your Daily Dinero Ritual by CLICKING HERE
☕️☕️☕️☕️☕️☕️☕️☕️☕️☕️☕️☕️☕️☕️☕️☕️☕️☕️☕️☕️☕️
I want to hear from you!  What was your favorite takeaway from this episode? Come on over to @HerDineroMatters on Instagram and share it with us there.
Abrazos + Much Love,
Jen
P.S. ¡GRACIAS por escuchar! THANKS for listening!
Enjoy the Show?
Be sure to never miss an episode by hitting the subscribe or follow button on your favorite podcast app! Get instant notifications of the latest episodes now!
Be sure to share with a friend (or two)! You never know what someone is going through in their financial life. Here is a tweet you can share now:
Have Feedback?
Send us feedback via email to support@jenhemphill.com or click here to leave a voicemail.
The post, What Happened Between Her Daring Belief and Her Worth |HDM 234, appeared first on the Her Dinero Matters Podcast.