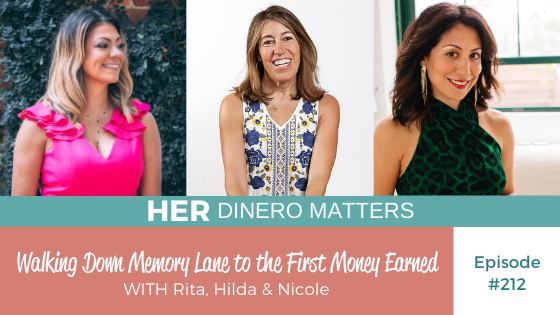 Do you recall your first money earned? How did you make that money? What was going on in your life?
In this episode that was recorded in person in Podfest in Orlando, we have a fun and insightful conversation with this month's Reina Panel.
We are joined by Rita Bautista, Hilda Labrada Gore and Nicole Hernandez.
A little bit about our panelists for this episode:
🙋🏻‍♀️ Rita Bautista has learned that the keys to success always lie in the power to network and connect to industry leaders. After beginning her women's empowerment podcast – Empowerment & All That – she quickly realized there was a lack of connection and representation in the podcasting arena for mujeres Latinas. This immediately fueled her fire and she launched the idea of creating a Latina Podcasters community to amplify the voice of Latinas who podcast, connect them with resources, and plug in the audiences of those who love to listen.
🙋🏻‍♀️ Hilda Labrada Gore (a/k/a Holistic Hilda) is an ancestral health expert who has traveled the world exploring traditional practices for optimal well-being.
She is a biohacker, a certified health coach, fitness professional and the host and producer of the Wise Traditions podcast, on behalf of the Weston A. Price Foundation.
In addition to being a health coach, Hilda is a podcast coach and the author of "Podcasting Made Simple." She especially enjoys helping people in the health and wellness space launch their shows.
🙋🏻‍♀️ Nicole Hernandez is a conscious entrepreneur, a certified hypnotist, speaker, and host of The Daring Kind podcast. She harnesses the power of hypnotherapy, neuroscience, sound and movement to help the hesitant changemaker overcome old subconscious beliefs that have kept them looping in self-sabotaging behaviors and thoughts. She has been featured in SUCCESS Magazine, Best Life, FemCity, Salon, PR Daily, and more.
Listen to the Episode Below
What you'll learn about in today's episode:
We walk down memory lane to the first money earned as a kid

We explore how that memory experience ties into today's life

Some inspiration to re-ignite the excitement to those dreams we lost hope on
Resources From This Episode:
Connect with Rita: @LatinaPodcasters
Connect with Hilda: HolisticHilda.com
Connect with Nicole: TheTravelingHypnotist.com
Check out the Her Dinero Matters LOUNGE here
Nominate a mujer (woman) for Reina of the Week here: www.jenhemphill.com/reinaoftheweek
☕️☕️☕️☕️☕️☕️☕️☕️☕️☕️☕️☕️☕️☕️☕️☕️☕️☕️☕️☕️☕️
I want to hear from you!  What was your favorite takeaway from this episode? Come on over to @HerDineroMatters on Instagram and share it with us there.
Abrazos + Much Love,
Jen
P.S. ¡GRACIAS por escuchar! THANKS for listening!
Enjoy the Show?
Be sure to never miss an episode by hitting the subscribe or follow button on your favorite podcast app! Get instant notifications of the latest episodes now!
Be sure to share with a friend (or two), you never know what someone is going through in their financial life. Here is a tweet you can share now:
Have Feedback?
Send us feedback via email to support@jenhemphill.com or click here to leave a voicemail.
The post, Walking Down Memory Lane to the First Money Earned | HDM 212 appeared first on the Her Dinero Matters Podcast