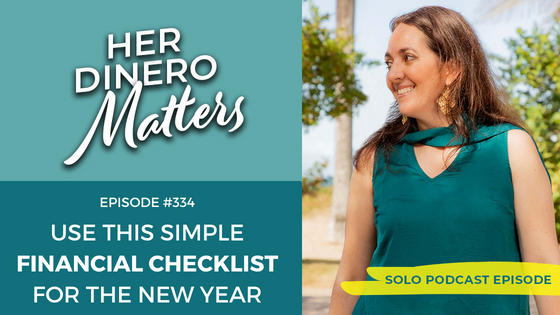 This episode is brought to you by my new class How To Win Paying Off Your Credit Card Debt In This Economy
If you are determined that this is going to be your year financially but you don't know what to do if it starts to fizzle off in a few weeks, then this episode is for you!
One of the most popular New Year's resolutions is to manage our finances well. You realize that you start enthusiastic and then as the months go by it diminishes.
What if you had a simple financial checklist to keep the momentum going throughout the year? In this episode, I share my simple financial checklist with only 5 items on the list that you can use month after month without losing your motivation.
The past few years have been challenging, using tools like these can empower us in raising awareness of what we can control.
What you'll learn about in today's episode:
The two things you need to remember so you don't stall on your progress

The exact 5 items on this simple checklist

A thorough explanation of each item so you can use this checklist with success
Listen to the Episode Below
You can also watch or listen on YouTube!
Resources from this episode:
The Financially Strong Circle Membership
My new class: How To Win Paying Off Your Credit Card Debt In This Economy —–>>Listener Perk!!! Use the code: HERDINEROMATTERS for $10 off at checkout!
Related Her Dinero Matters episodes you may enjoy:
#247 – 3 Ways to be Meaningful with your finances
#127 – Seven Ways To Improve Your Financial Confidence To Kickstart Your Year
☕️☕️☕️☕️☕️☕️☕️☕️☕️☕️☕️☕️☕️☕️☕️☕️☕️☕️☕️☕️☕️
Get involved in our community:
Join the conversation in our community on Facebook: jenhemphill.com/community


Want to get social? Let's connect more on Instagram @jenhemphill
Enjoy the Show?
Be sure to never miss an episode by hitting the subscribe or follow button on your favorite podcast app! Get instant notifications of the latest episodes now!
Be sure to share with a friend (or two)! You never know what someone is going through in their financial life. Here is a tweet you can share now:
If you listen on Apple Podcasts you can review THERE. If not you can go HERE to review on Podchaser! THANK YOU!
Have Feedback?
Send us feedback via email to support@jenhemphill.com or click here to leave a voicemail.
The post, Use this Simple Financial Checklist for the New Year | HDM 334 appeared first on the Her Dinero Matters Podcast.