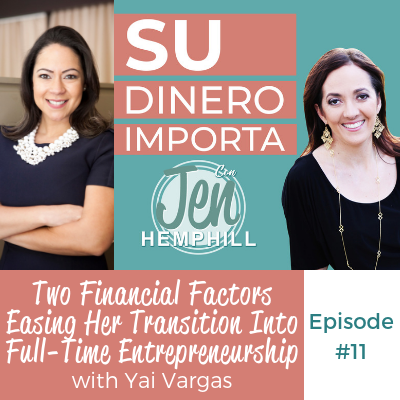 Entrepreneurship is a roller coaster ride and making the decision of making it full-time is not an easy one. Yai Vargas shares how she eased her way in.
If you are considering entrepreneurship or are currently trying to figure out how you can transition into it full-time, this episode is for you.
Listen to the Episode Below
What You'll Learn In Today's Episode:
Two financial factors that helped her transition into full-time entrepreneurship

One critical element she found missing which can help you elevate your career path much more quickly

Her top 3 tips for being the best of you for your career
Resources From This Episode:
I want to hear from you!  What was your favorite takeaway from this episode? Please come on over to our community and share with us there.
You can join our community (and receive our weekly newsletters) by grabbing The Daily Dinero Ritual!
Abrazos + Much Love,
Jen
P.S. THANK YOU for listening!
The post, Two Financial Factors Easing Her Transition Into Full-Time Entrepreneurship with Yai Vargas | SDI 11 appeared first on the Su Dinero Importa Podcast