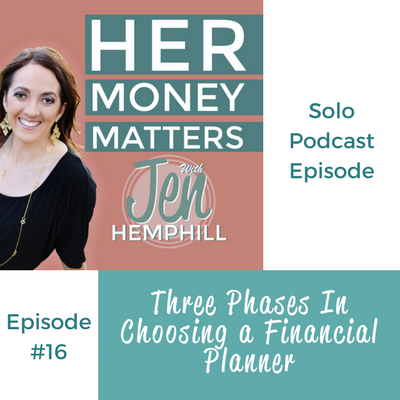 Financial planning can be so intimidating, but not if you have the right financial planner watching your back. In this episode I share with you the 3 phases that involved when choosing a financial planner.
**Spoiler Alert #1** There is nothing complicated about what I share with you so don't worry!
**Spoiler Alert #2** Just a reminder or if you are listening for the first time: I am not a financial planner or any sort, I cannot provide you advice on on investments but I can educate you on what to look for in a financial planner.
This is just my opinion so take what you like and run with it, the rest just leave it here :-).
Listen to the Episode Below
What You'll Learn In Today's Episode:
The difference between commission based vs. fee-based financial planners and why it matters
One key question you can ask that will allow you to gather a lot of information on the financial planner
A bonus resource of where you can quickly check and learn more about the financial planners you are interested in while making sure there haven't been any complaints (kind of like a Better Business Bureau for the financial services industry)
Resources From This Episode:
The Broker Check Tool by FINRA
Sources to find fee-based Registered Investment Advisors (RIAs):
NAPFA (National Association of Personal Financial Advisors)
Want to find out more about financial planning?
If you want to hear more about financial planning and would like me to have a financial planner as a guest, leave a comment below well as what kind of questions you would like to have answered!
Abrazos (**hugs**),
Jen
P.S. THANK YOU for listening!
Enjoy The Show?
Be sure to never miss an episode:
Share with a friend by using the social media icons below.
Send us feedback via email to support@jenhemphill.com or click here to leave a voicemail.
**Please note I love to give shout outs to my listeners, so if you'd rather me not mention your email message or play your voicemail on the show be sure to clearly state that, thank you!**