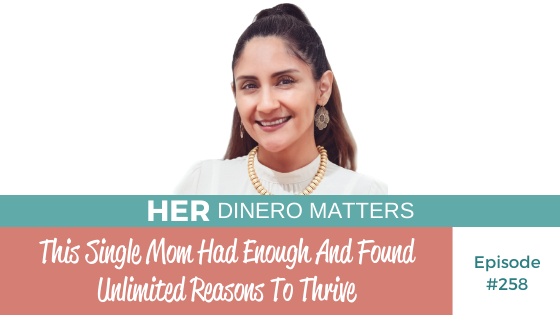 Are you a single mom encountering many struggles and barriers in your life? Never underestimate the power of a positive mindset and your resilience as it can help you to overcome all circumstances.  
In this episode, the wonderful Cristina Trujillo, founder, and CEO of Reem Media, shares her money story and how she overcame many barriers as a single mom with love and commitment to her son. You will hear her share the importance of surrounding yourself with good people when you are a single parent. She also shares exactly how your values help on your financial journey.  
Listen to the Episode Below
What you'll learn about in today's episode:
The main barriers Cristina faced to become an incredible woman

A powerful piece of advice for single mothers

Entrepreneurship and how it ties into her relationship with her son

How values shaped her financial journey
Main Barriers Faced by Cristina
Cristina faced many barriers to become the incredible woman she is today. When she was a kid she didn't realize what poverty meant and her first memory involves her school's principal giving money to her mother to fill their empty refrigerator. The lack of food in her childhood was the first barrier that generated some traumas which affected a part of her money journey.
 Another barrier Cristina faced was being raised in a household where college wasn't a part of the conversation, instead getting married was the main focus. This is the reason why Cristina got married to her boyfriend at the time and then had a son a few months after getting married, at the age of 20.
Cristina's marriage didn't work out, and she ended up in a woman's battered shelter with her son. That was a significant turning point for her. and she promised her son that he was not going to be raised in poverty. She went back to study and worked hard to keep her promise.
Challenges Of Being A Single Mom
Christina shares the struggles and circumstances of being a single mom, not having the support of the family, and the importance of a child having two perspectives in the household. She also shares that having a child can be a rebirth for a parent, and a powerful drive to become a better human being and parent. 
 A lesson Cristina wanted to pass on to other young single parents is to identify your support system, because you need someone you can trust and turn to for support. It is essential to always make sure to surround yourself with good people and good role models for your child.
Entrepreneurship & Her Son
Cristina was in the world of personal finance, but her life changed in a different direction with an idea from her son. She decided to fully support her son's talent as a videographer and photographer and started offering those services to her colleagues. They started this business as a side hustle, but she took it seriously and created a full business of it, always with the knowledge and talent of her son. A year after, her son started adulting and chose to leave their business, but Cristina continued and decided to turn it into an ethical multimedia agency, to connect freelance artists and link them with job opportunities.
 Last year, in August, her small business, Reem Media, was formally launched as an agency. With COVID, the agency started offering full-service multimedia and continued cultivating the relationship with her customers in order to overcome the crisis. Her son continues helping her with advise around operations and customer experience.
Cristina's Values And Her Financial Journey
Cristina's art and values are fundamental in her life. With everything she survived like poverty, her purpose in life is to turn all of that into a positive one so, every person that contacts her has a good experience and knows they can trust in her and feel that she is a reliable person.
 In addition, the main value that has shaped her financial journey is economic justice and she always tries to align her spending habits that reflect these values. 
Resources From This Episode:
Cristina Trujillo on Instagram: @cristinatrujillo_official
Session #2 of Financially Strong Latina is tonight! CLICK HERE TO GRAB YOUR SPOT for tonight's session and for the next week's final session, April 1st (It's FREE) thanks to the sponsorship of AARP.
Do not forget (after registration) to go to the Facebook event page here! Mark "going" and this will give more visibility so more women can be in control of their financial life. Be sure to share with your familia and amigas. Thank you!
☕️☕️☕️☕️☕️☕️☕️☕️☕️☕️☕️☕️☕️☕️☕️☕️☕️☕️☕️☕️☕️
I want to hear from you!  What was your favorite takeaway from this episode? Come on over to @HerDineroMatters on Instagram and share it with us there.
Abrazos + Much Love,
Jen
P.S. ¡GRACIAS por escuchar! THANKS for listening!
Enjoy the Show?
Be sure to never miss an episode by hitting the subscribe or follow button on your favorite podcast app! Get instant notifications of the latest episodes now!
Be sure to share with a friend (or two)! You never know what someone is going through in their financial life. Here is a tweet you can share now:
Have Feedback?
Send us feedback via email to support@jenhemphill.com or click here to leave a voicemail.
The post, This Single Mom Had Enough And Found Unlimited Reasons To Thrive | HDM 258 appeared first on the Her Dinero Matters Podcast.