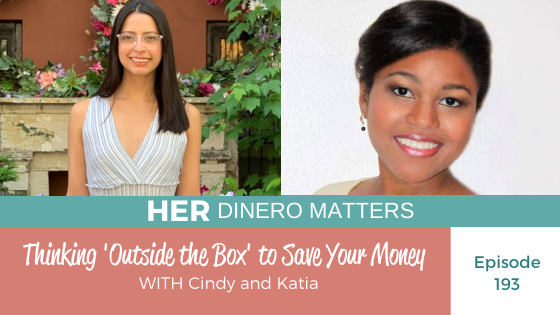 Are you needing new ideas or inspiration when it comes to saving that money? Our Reina Crew this month discusses just that! Don't miss out and tune into this episode.
A little bit about our panelists for this episode:
🙋🏻‍♀️ Cindy Zuniga is the founder of Zero-Based Budget Coaching LLC.  After graduating from law school in 2015 with over $210,000 of debt, Cindy took control of her money by immersing herself in the world of personal finance.
In 2018, she launched @zerobasedbudget to document her debt payoff journey and simplify personal finance concepts.  After recognizing, through her platform, people's unique needs and goals, Cindy founded Zero-Based Budget Coaching LLC and offers personal finance coaching services and speaks to audiences small and large about budgeting, saving, investing, and more.
Cindy practices law full time as a commercial litigator.
🙋🏻‍♀️ Katia Perez-Chesnok is an entrepreneur, financial literacy blogger & advocate and millennial mom. She worked investment and commercial banking for more than 10 years, in institutions such as Bank of America, Royal Bank of Canada among others.
Katia runs the personal finance blog Economikat dedicated to all women and especially Latinas, to empower, inform and inspire them on their financial journeys while sharing tips on savings, budgeting, investing and others.
She also co-founded CP Clicks, a digital marketing and e-commerce agency.
Listen to the Episode Below
What you'll learn about in today's episode:
Challenges they have had when it comes to saving

How they overcame those challenges and started saving more

Some creative ways they have saved and others they are wanting to try
Pregunta of the Week:
🤔 What is an out of the box way you have saved that you are proud of? 🤔
Use your free account in the Her Dinero Matters Hub to submit your answer and be one step closer to this month's freebie!
Have your free account? Click here to get taken directly to this week's question.
Don't have a free account, yet? No worries click here to get started (and submit your answer).
Resources From This Episode:
Cindy's blog: Zero-BasedBudget.com
Katia on IG: @economikat
You can join our community (and receive our weekly newsletters) by grabbing The Daily Dinero Ritual!
Nominate a mujer (woman) for Reina of the Week here: www.jenhemphill.com/reinaoftheweek
☕️☕️☕️☕️☕️☕️☕️☕️☕️☕️☕️☕️☕️☕️☕️☕️☕️☕️☕️☕️☕️
I want to hear from you!  What was your favorite takeaway from this episode? Come on over to @HerDineroMatters on Instagram and share it with us there.
Abrazos + Much Love,
Jen
P.S. ¡GRACIAS por escuchar! THANKS for listening!
Enjoy The Show?
Be sure to never miss an episode:
Share with a friend by using the social media icons below.
Send us feedback via email to support@jenhemphill.com or click here to leave a voicemail.
The post, Thinking 'Outside the Box' to Save Your Money | HDM 193 appeared first on the Her Dinero Matters Podcast