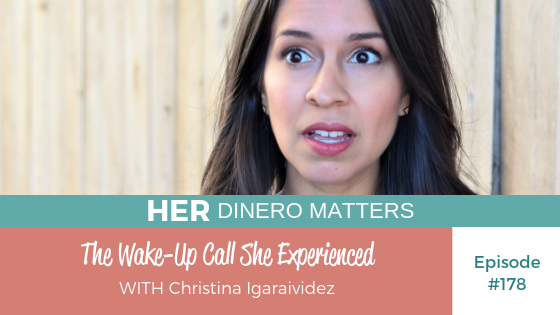 What was your most recent wake-up call?
No matter what challenges, wake up calls or surprises arise there is something good to learn from it.
It is no different in Christina Igaraividez's case. She's an actor, comedian, and storyteller who shares with us her unique story.
Listen to the Episode Below
What you'll learn about in today's episode:
One amazing trait her mom passed on to her despite the hardship her mom endured raising her as a single mom

The wake-up call she had applying for college on grants and student loans

What she learned about her husband when they were looking to purchase a house
Pregunta of the Week:
🤔 What was the discovery Christina made about her husband when they were in the process of looking for a home to buy? 🤔
Use your free account in the Her Dinero Matters Hub to submit your answer and be one step closer to this month's freebie!
Have your free account? Click here to get taken directly to this week's question.
Don't have a free account, yet? No worries click here to get started (and submit your answer).
Resources From This Episode:
Connect with Christina on IG: @chrixtinai
Nominate a mujer (woman) for Reina of the Week here: www.jenhemphill.com/reinaoftheweek
☕️☕️☕️☕️☕️☕️☕️☕️☕️☕️☕️☕️☕️☕️☕️☕️☕️☕️☕️☕️☕️
I want to hear from you!  What was your favorite takeaway from this episode? Please come on over to our community and share with us there.
Abrazos + Much Love,
Jen
P.S. ¡GRACIAS por escuchar! THANKS for listening!
Enjoy The Show?
Be sure to never miss an episode:
Share with a friend by using the social media icons below.
Send us feedback via email to support@jenhemphill.com or click here to leave a voicemail.
The post, The Wake-Up Call She Experienced with Christina Igaraividez | HDM 178 appeared first on the Her Dinero Matters Podcast