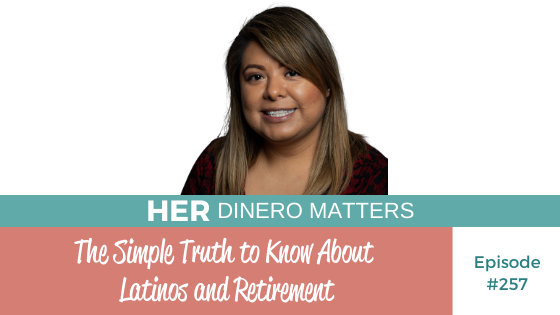 Latinos and retirement is a topic that needs to be discussed more often. According to the Department of Homeland Security (DHS) and the Pew Research Center, more than 11 million people in the United States don't have legal immigration status. However, they fill an important role in our economy and represent around 4.6% of the labor force. These people are our friends, part of the Latino community, neighbors, or colleagues. What we can't measure are the struggles and challenges they are facing or how many years they have been fighting for having better opportunities. Amongst these challenges is saving for retirement. 
In this episode, Abigail Zapote, shares with us her 20+ year journey to become a U.S. citizen, and how her social security number has given her the opportunity of a better life and help the Latino community. She shares some of the challenges undocumented people face in order to build wealth and has done a lot of work during the course of her career to helping the progress of Latinos and retirement.  
 Abigail Zapote is a civil rights advocate and a servant leader with a passion to empower disadvantaged communities & promote racial and economic equity. She is the former Executive Director for Latinos for a Secure Retirement where she led a coalition of national Latino organizations to advocate for Social Security and greater financial literacy for Latinos of all ages. Currently, she is serving an appointment as a Senior Advisor at the Social Security Administration.
NOTE: This interview was recorded July 1, 2020.
Listen to the Episode Below
What you'll learn about in today's episode:
Abigail money's story and how a nine-digit number changed her life

What Latinos for a Secure Retirement is and why it was created

What the Latino community needs to know about retirement

The financial challenges undocumented Latinos face
Abigail Money Story
Abigail shares several of her money memories starting when she was 6 years old and came to live in the United States. Her mom had a job with the minimum wage to support her and her brother. She shares also, how her job journey started when she was 14 years old, and how when her brother was picked up from ICE became a turning point in her life.
For Abigail, being part of the undocumented Latino community was a big barrier to build wealth, and getting her social security card was the ticket for a better life and opportunities.
Latinos For Secure Retirement
When Abigail was in college she had the opportunity to join the civil rights organization, where she was elected as Vice President and was able to work advocating for the Latino community. While she was working for that organization, her mentor saw her potential and offered her to be the executive director of Latinos For Secure Retirement, a place that truly understood the benefits of having a security number.
 Latinos For Secure Retirement was created with the real purpose to ensure that congressional members take into consideration the Latino community, and expand benefits, considering all Latinos.
Latinos and Retirement
Abigail shares with us her concern about the Latino community not preparing for retirement and their mentality of not wanting to be a burden on this country. She guides us through the importance of teaching Latinos of all ages how to save for retirement, the benefits, as well as the implications, and the challenges undocumented people face.
Resources From This Episode:
Abigail Zapote on Instagram: @abizapote
Latinos for a Secure Retirement website: www.latinoretirement.org
Financially Strong Latina is tonight! CLICK HERE TO GRAB YOUR SPOT for this session #1 and for the next two sessions, March 25th and April 1st (It's FREE) thanks to the sponsorship of AARP.
Do not forget (after registration) to go to the Facebook event page here! Mark "going" and this will give more visibility so more women can be in control of their financial life. Be sure to share with your familia and amigas. Thank you!
You can join our community (and receive our weekly newsletters) by grabbing The Daily Dinero Ritual!
☕️☕️☕️☕️☕️☕️☕️☕️☕️☕️☕️☕️☕️☕️☕️☕️☕️☕️☕️☕️☕️
I want to hear from you!  What was your favorite takeaway from this episode? Come on over to @Jenhemphill on Instagram and share it with us there.
Abrazos + Much Love,
Jen
P.S. ¡GRACIAS por escuchar! THANKS for listening!
Enjoy the Show?
Be sure to never miss an episode by hitting the subscribe or follow button on your favorite podcast app! Get instant notifications of the latest episodes now!
Be sure to share with a friend (or two)! You never know what someone is going through in their financial life. Here is a tweet you can share now:
Have Feedback?
Send us feedback via email to support@jenhemphill.com or click here to leave a voicemail.
The post, The Simple Truth to Know About Latinos and Retirement | HDM 257 appeared first on the Her Dinero Matters Podcast.