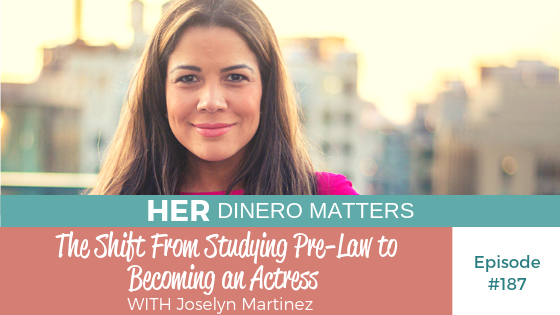 Changing the course of your career isn't always easy, but it is always doable.
In this episode, Joselyn Martinez shares how she made the change from wanting to become a lawyer to jumping into a career in acting.
She shares the details, how she is making it as an actress and more!
Listen to the Episode Below
What you'll learn about in today's episode:
Why she changed her career from being a pre-law student to acting

Her best tips as to what has helped her to make it as an actress

The biggest money lesson that she has learned that isn't what you'd expect
Pregunta of the Week:
No pregunta of the week for this episode. However, it is a good a time as any if you need to get caught up.
Use your free account in the Her Dinero Matters Hub to submit your answers so you can grab the amazing freebies we have available for you!
Have your free account? Click here to log in.
Don't have a free account, yet? No worries click here to get started (and submit your answer).
Resources From This Episode:
Instagram: @JoselynMartinez
Nominate a mujer (woman) for Reina of the Week here: www.jenhemphill.com/reinaoftheweek
☕️☕️☕️☕️☕️☕️☕️☕️☕️☕️☕️☕️☕️☕️☕️☕️☕️☕️☕️☕️☕️
I want to hear from you!  What was your favorite takeaway from this episode? Please come on over to our community and share with us there.
Abrazos + Much Love,
Jen
P.S. ¡GRACIAS por escuchar! THANKS for listening!
Enjoy The Show?
Be sure to never miss an episode:
Share with a friend by using the social media icons below.
Send us feedback via email to support@jenhemphill.com or click here to leave a voicemail.
The post, The Shift From Studying Pre-Law to Becoming an Actress with Joselyn Martinez | HDM 187 appeared first on the Her Dinero Matters Podcast