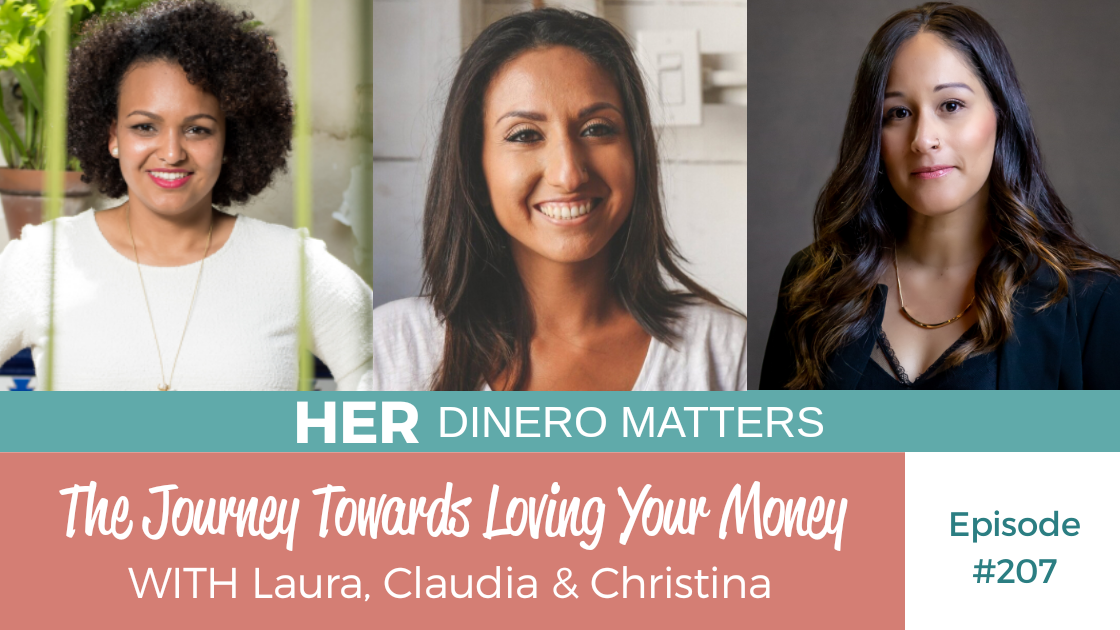 The journey towards loving your money takes time. Back on Episode 204 I shared my own perspective on loving your money vs. loving money.
In this episode I wanted you to hear different perspectives which is why I invited Laura Fortuna, Claudia Parada and Christina Tello.
A little bit about our panelists for this episode:
🙋🏻‍♀️ Laura Fortuna is a Latina entrepreneur, coach, tax accountant, public speaker, and an NFEC Certified Financial Education Instructor. Prior to becoming a personal finance coach, Laura worked as a tax professional for a multi-national public accounting firm. Laura graduated from Salem State University's business and accounting undergraduate program. She also earned a Master in Taxation from Northeastern University and is a Certified Public Accountant.
As a personal finance coach, Laura educates Latinas through her social media platforms, YouTube and "The CFO Community", a monthly newsletter. Laura's mission is to financially empower the Latino community, one woman at a time.
🙋🏻‍♀️ Claudia Parada is a San Francisco Bay Area native, Claudia completed my Bachelors at San Francisco State University Latinx Studies Program and is currently pursuing a Master's degree in Integral Counseling Psychology, training in humanistic approaches to therapy.
She has a passion for working with people of color to remember and reimagine the way they heal together in today's world.
Claudia uses eight years of holistic life coaching experience and five years of apprenticeship in Mesoamerican tradition to support clients uncover their own inner wisdom around what health and healing mean for them.
🙋🏻‍♀️ Christina Tello is a military spouse, mom of three, and the creator of Unleash Your Truth. She holds online and in-person workshops teaching women how to use journaling as a tool to remove their limiting beliefs, find their identity, and step into their authentic selves.  Her mission is to empower women all over the world to not be scared to do the dirty work that comes with self-growth.
Listen to the Episode Below
What you'll learn about in today's episode:
Different meanings on what loving your money means because there is no one perfect definition

Diverse perspectives from the panel on how Latinos see money

How the negative connotation of loving money appeared in their financial life

What their relationship to money looks like
Resources From This Episode:
Connect with Laura on IG: @TheFortuneCoach
Connect with Claudia: ClaudiaParadaEnergy.com
Connect with Christina on IG: @Unleash_Your_Truth
Nominate a mujer for Reina of the Week here: www.jenhemphill.com/reinaoftheweek
Hop on over to the Himalaya App and get the details for the Cafecito Lounge! Use the code DINERO for a 30 day free trial.  
You can join our community (and receive our weekly newsletters) by grabbing The Daily Dinero Ritual!
☕️☕️☕️☕️☕️☕️☕️☕️☕️☕️☕️☕️☕️☕️☕️☕️☕️☕️☕️☕️☕️
I want to hear from you!  What was your favorite takeaway from this episode? Come on over to @HerDineroMatters on Instagram and share it with us there.
Abrazos + Much Love,
Jen
P.S. ¡GRACIAS por escuchar! THANKS for listening!
Enjoy the Show?
Be sure to never miss an episode by hitting the subscribe or follow button on your favorite podcast app! Get instant notifications of the latest episodes now!
Be sure to share with a friend (or two), you never know what someone is going through in their financial life. Here is a tweet you can share now:
Have Feedback?
Send us feedback via email to support@jenhemphill.com or click here to leave a voicemail.
The post, The Journey Towards Loving Your Money (Reina Panel) | HDM 207 appeared first on the Her Dinero Matters Podcast