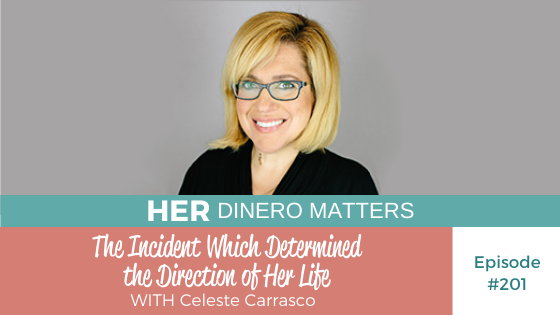 There are certain incidents in our life that permanently shape our life forever. For Celeste Carrasco this was the case and she used this incident to help better the lives of others.
She is no doubt a natural leader and is doing some incredible things with her role as Director of Federal Public Affairs for AT&T.
Listen to the Episode Below
What you'll learn about in today's episode:
What happened at 5 years of age that caused her to lose her vision in one eye and how it left an emotional strain on the family

How this accident led her to largely advocate for families with disabilities

How her money story involved a focus on the importance of education

Three tips that have helped her have a successful career in the corporate sector
Resources From This Episode:
Connect with Celeste on LinkedIn
Join the waitlist for special announcements and updates for the upcoming Her Dinero Matters LIVE event happening in Washington D.C.!
Nominate a mujer (woman) for Reina of the Week here: www.jenhemphill.com/reinaoftheweek
Hop on over to the Himalaya App and get the details for the Cafecito Lounge! Use the code DINERO for a 30 day free trial.  
☕️☕️☕️☕️☕️☕️☕️☕️☕️☕️☕️☕️☕️☕️☕️☕️☕️☕️☕️☕️☕️
I want to hear from you!  What was your favorite takeaway from this episode? Please come on over to our community and share with us there.
Abrazos + Much Love,
Jen
P.S. ¡GRACIAS por escuchar! THANKS for listening!
Enjoy the Show?
Be sure to never miss an episode by hitting the subscribe or follow button on your favorite podcast app! Get instant notifications of the latest episodes now!
Be sure to share with a friend (or two), you never know what someone is going through in their financial life. Here is a tweet you can share now:
Have Feedback?
Send us feedback via email to support@jenhemphill.com or click here to leave a voicemail.
The post, The Incident Which Determined the Direction of Her Life, with Celeste Carrasco | HDM 201 appeared first on the Her Dinero Matters Podcast