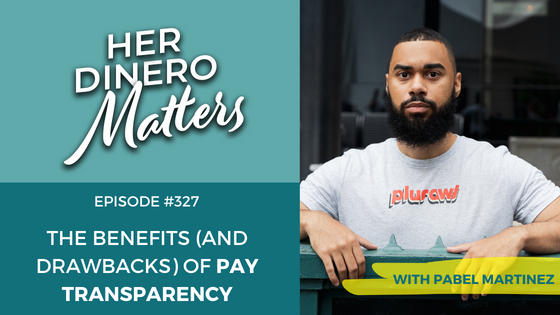 Have you ever shared how much you earn at work with family or friends? Imagine posting it on social media. That feels scary, right? Well, our guest today did. Pabel Martinez shares with us why he did it, the benefits  (and drawbacks) of his pay transparency and what happened as a result.
Pabel Martinez is a New York native, storyteller, and former tech executive. His mission in life became to redefine professionalism by empowering authenticity. In 2020, he launched Plurawl to bring this mission to life.
You will also hear the following in today's episode:
Pabel's thoughts  on pay transparency and the reason why he shared his salary publicly.

A tip for those who want to have more open conversations on pay transparency and its benefits. 

What Pabel experienced and observed after the public post which revealed his salary.
Listen to the Episode Below
Want To Listen To Certain Parts Of The Episode? Hover Over The Minute Mark Below And It Will Take You To That Part Immediately. 🙌🏽
↳Pabel's upbringing around money and the influence his mother had on his financial journey. [4:31]
↳His thoughts on pay transparency and the exact details behind why he decided to share his salary publicly. [12:42]
↳What happened as a result of sharing his salary on LinkedIn. [15:10]
↳What Pabel experienced and observed after the public post which revealed his salary. [22:53]
↳Pabel's tip if you are inspired to be more transparent about your salary. [24:44]
↳How "Plurawl" came about and the story behind the name. [28:24]
↳Pabel 's greatest lesson from his podcast, ¿Quién tú eres? [29:49]
Resources From This Episode:
Click here to watch this episode on YouTube!
Connect with Pabel: Pabel Martinez
Articles referenced in this episode:
If you are interested in learning about a specific money – topic, let us know by filling out this form!
Grab your copy of my Daily Dinero Ritual and increase your money confidence (it's free).
You can join our community (and receive our weekly newsletters) just by grabbing it. Follow us on your favorite podcast player and review! If you listen on Apple Podcast you can review THERE. If not you can go HERE to review on Podchaser! THANK YOU! 😉
Enjoy the Show?
Be sure to never miss an episode by hitting the subscribe or follow button on your favorite podcast app! Get instant notifications of the latest episodes now!
Be sure to share with a friend (or two)! You never know what someone is going through in their financial life. Here is a tweet you can share now:
Have Feedback?
Send us feedback via email to support@jenhemphill.com or click here to leave a voicemail.
The post, The Benefits (And Drawbacks) Of Pay Transparency | HDM 327 appeared first on the Her Dinero Matters Podcast.