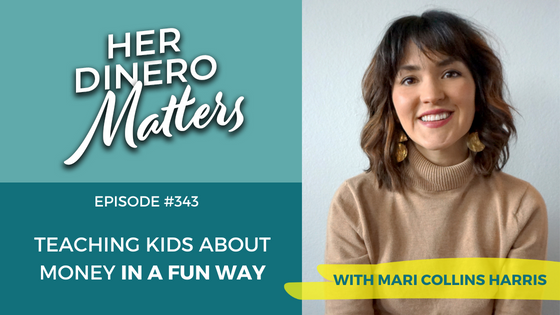 Teaching kids about money can be a complicated task because of our own fears that we aren't "good" with money. However, we currently have an advantage in our favor: we live in an era where there are many fun ways to educate them so that they don't get bored. If you are looking for some inspiration to help you teach our kids, look no further as that is the focus of this conversation. Spoiler alert, it is with online shopping!
Have you ever tried online shopping with your kids? It's not exactly easy, given the overwhelming amount of options available and the fact that many of them aren't even kid-friendly. And while letting them go online alone is a recipe for disaster, trying to guide them through the process can be just as daunting, not to mention time-consuming and stressful.
Our guest, Mari Collins Harris, and her husband have created an app that not only helps children prioritize the things they love, but also teaches them the value of money in an engaging way.
What you'll learn about in today's episode:
How your can kids learn to save and make a budget in a fun way
Teaching your children how to set goals that really get them excited
How this app creates a confidence conversation about money
Listen to the Episode Below
You can also watch or listen on YouTube!
Resources from this episode:
Connect with Mari: @mari.collins
CLICK HERE to receive $10 OFF on your first order of a Ketshop-fulfilled item!
Related Her Dinero Matters episodes you may enjoy:
#84 – How Her 8 Kids Learned Great Money Skills With PJ Jonas
#65 – The Real Reason You Don't Talk About Money With Your Kids
☕️☕️☕️☕️☕️☕️☕️☕️☕️☕️☕️☕️☕️☕️☕️☕️☕️☕️☕️☕️☕️
Get involved in our community:
Join the conversation in our community on Facebook: jenhemphill.com/community


Want to get social? Let's connect more on Instagram @jenhemphill
Enjoy the Show?
Be sure to never miss an episode by hitting the subscribe or follow button on your favorite podcast app! Get instant notifications of the latest episodes now!
Be sure to share with a friend (or two)! You never know what someone is going through in their financial life. Here is a tweet you can share now:
If you listen on Apple Podcasts you can review THERE. If not you can go HERE to review on Podchaser! THANK YOU!
Have Feedback?
Send us feedback via email to support@jenhemphill.com or click here to leave a voicemail.
The post, Teaching Kids About Money In A Fun Way | HDM 343 appeared first on the Her Dinero Matters Podcast.