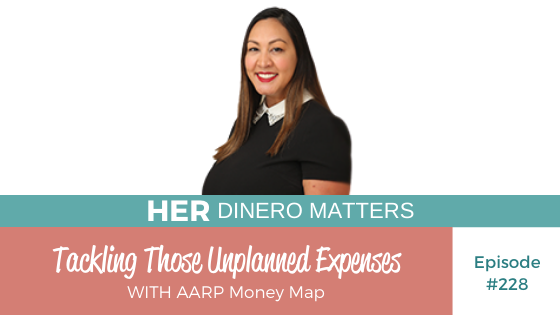 This episode is sponsored by AARP.
Navigating challenging financial situations is something we will encounter through the course of our lives. There will always be a solution to these challenges and sometimes those solutions take a while to figure out.
Fortunately for you and me, AARP has done a lot of the heavy lifting and created a comprehensive (and free) resource to help us navigate these challenging financial situations. For particular scenarios and expenses, the tool tells us the next steps we can take.
I won't do any more spoiler alerts behind the power of AARP Money Map as we have Veronica Segovia-Bedon in this episode to give us all the details.
What you'll learn about in today's episode:
Why AARP wants to be a resource even if we aren't over the age of 50
What drove the creation of the AARP Money Map
How this tool can help you at this very moment
Resources From This Episode:
---
Este episodio es patrocinado por AARP.
Navegar situaciones financieras desafiantes es algo que encontraremos a lo largo de nuestras vidas. Siempre habrá una solución a estos desafíos y, a veces, nos tardamos en decifrar esas soluciones.
Afortunadamente para ti y para mí, AARP ha hecho gran parte del trabajo pesado y ha creado un recurso integral (y gratuito) para ayudarnos a navegar estas situaciones financieras desafiantes. Para escenarios y gastos particulares, la herramienta nos indica los próximos pasos a seguir.
No diré más detrás del poder de AARP Money Map, ya que tenemos a Veronica Segovia- Bedon en este episodio para darnos todos los detalles.
En el episodio de hoy aprenderás:
Porque AARP quiere ser un recurso, así no tengamos mas de 50 anos
Lo que condujo a la creación del Money Map de AARP
Como esta herramienta te puede ayudar en este momento
Recursos de Este Episodio:
☕️☕️☕️☕️☕️☕️☕️☕️☕️☕️☕️☕️☕️☕️☕️☕️☕️☕️☕️☕️☕️
I want to hear from you! What was your favorite takeaway from this episode? Come on over to @HerDineroMatters on Instagram and share it with us there.
Abrazos + Much Love,
Jen
P.S. ¡GRACIAS por escuchar! THANKS for listening!
Enjoy the Show?
Be sure to never miss an episode by hitting the subscribe or follow button on your favorite podcast app! Get instant notifications of the latest episodes now!
Be sure to share with a friend (or two)! You never know what someone is going through in their financial life. Here is a tweet you can share now:
Have Feedback?
Send us feedback via email to support@jenhemphill.com or click here to leave a voicemail.
The post, Tackling Those Unplanned Expenses with AARP Money Map | HDM 228 appeared first on the Her Dinero Matters Podcast.