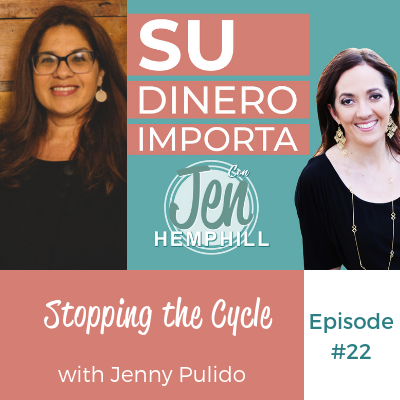 Have you ever found yourself saying "I'm starting to sound like my mom (or dad)"? It's not secret that our upbringing can have a long life impact. This also includes how our parents managed their money.
In this episode Jenny Pulido shares with us how she stopped the cycle of the money conversation being "cosa de adultos" (an adult thing) and so much more.
Listen to the Episode Below
Lo que aprenderás en el episodio de hoy (What you'll learn about in today's episode):
The response she got after asking her parents a money question and how she is changing the cycle with her sons

The lesson she learned when she purchased a ring with a $239 monthly payment

The change she was afraid to make with her spouse because it brought her a lot of shame and guilt, but she did it anyway
Resources From This Episode:
@unavidapulido on Instagram
Our brand new community on FB
I want to hear from you!  What was your favorite takeaway from this episode? Please come on over to our community and share with us there.
You can join our community (and receive our weekly newsletters) by grabbing The Daily Dinero Ritual!
Abrazos + Much Love,
Jen
P.S. ¡GRACIAS por escuchar! THANKS for listening!
The post, Stopping the Cycle with Jenny Pulido | SDI 22 appeared first on the Su Dinero Importa Podcast