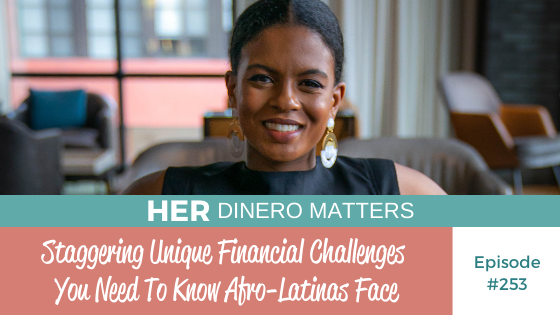 We are all aware of the gender wage gap, which indicates that women of color are experiencing wealth inequality. The unique challenges Afro-Latinas face impact their ability long-term when it comes to their financial life and progress.
 In this episode, Anna N'Jie-Konte, a proud Afro-Latina, the founder of Dare to Dream Financial Planning, and a passionate believer in the empowerment of women and minorities in America, shares with us her money story and personal money lessons, and why the financial progress of women of color is still in the early stages.
Listen to the Episode Below
What you'll learn about in today's episode:
The struggles of worth in her upbringing and the lessons learned

Women of color and their financial progress

Difference between an Afro-Latina and a black women money conversations
Anna's Financial Journey
Anna shares with us her strong memories about money, and why it was a source of anxiety and stress during her childhood. She also shares the impact family has about the perspective you form about money while growing up. It was when she started to work when she realized that money can be handled another way, starting with your money behaviors. Now, she is dedicated to helping women of color and other Afro-Latinas like herself, to plan their financial future, live boldly, and make a lasting impact on their family tree.
Women of Color and Financial Progress
The financial progress for women of color to include Afro-Latinas is still in the very early stages. For Latinos, blacks, and first-generation-Americans the "American dream" is harder, Anna shares that they are starting to prioritize the well-being of their financial future. . Anna shares that the first step to take is to work on the mindset, have the capacity of thinking long-term and have a vision for the future is crucial.
↳ Is the focus on real estate something cultural in women of color?
Having a vision long-term for your finances, and making decisions now that are going to be really helpful for you 10-15 years ahead, is important. Real estate is something that communities of color focus on, it's good to have housing security, but real estate is not the be all end all. When people get beyond that perspective and look at other ways to invest so more liquid investments, it's going to be the key to financial freedom for women of color.
A Difference Between Afro-Latinas and a Black Women's Money Beliefs
Anna shares that for her, being an Afro-Latina has given her a different perspective about money. One of the main differences is that Afro- Latinas talk a lot about getting married to have a "good life", even if your parents empowered you to be financially independent, marriage is one of the main topics on the family money conversations, which is a conflicting message.
Resources From This Episode:
Anna on Twitter: @anjiekonte
Anna's website: AnnaNJieKonte.com
Click here to watch this episode on YouTube!
A BIG announcement was made on this episode about the upcoming virtual series event Financially Strong Latina. If this excites you and you want to learn more (it's a free event) and be notified soon as we open the doors: CLICK HERE TO PUT YOUR NAME ON THE VIP WAITLIST!
You can join our community (and receive our weekly newsletters) by grabbing The Daily Dinero Ritual!
☕️☕️☕️☕️☕️☕️☕️☕️☕️☕️☕️☕️☕️☕️☕️☕️☕️☕️☕️☕️☕️
I want to hear from you!  What was your favorite takeaway from this episode? Come on over to @Jenhemphill on Instagram and share it with us there.
Abrazos + Much Love,
Jen
P.S. ¡GRACIAS por escuchar! THANKS for listening!
Enjoy the Show?
Be sure to never miss an episode by hitting the subscribe or follow button on your favorite podcast app! Get instant notifications of the latest episodes now!
Be sure to share with a friend (or two)! You never know what someone is going through in their financial life. Here is a tweet you can share now:
Have Feedback?
Send us feedback via email to support@jenhemphill.com or click here to leave a voicemail.
The post, Staggering Unique Financial Challenges You Need To Know Afro-Latinas Face | HDM 253 appeared first on the Her Dinero Matters Podcast.