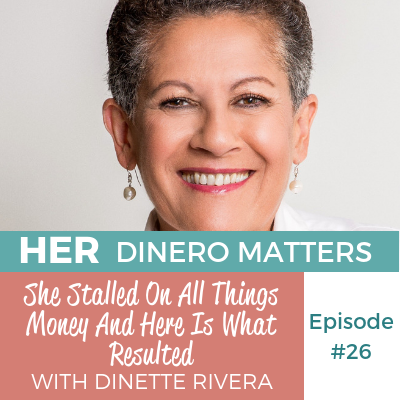 Have you ever stalled on all things money?
Money can cause stress and if things aren't going the way you want them to they also put you in denial or "I'll just will until later" mode.
Dinette Rivera found herself in a situation where life was fine and she didn't feel a lack for anything, so she stalled in having a good look at the money.
In our chat she shares what happened as a result and the lessons learned.
What you'll learn about in today's episode:
What happened after she found herself divorced and filing bankruptcy

The top common mistakes Latinos make in her experience as a money coach

Her proudest money moment to date
Resources From This Episode:
I want to hear from you!  What was your favorite takeaway from this episode? Please come on over to our community and share with us there.
Abrazos + Much Love,
Jen
P.S. ¡GRACIAS por escuchar! THANKS for listening!
The post, She Stalled on All Things Money and Here Is What Resulted (With Dinette Rivera) | HDM 26 appeared first on the Her Dinero Matters Podcast