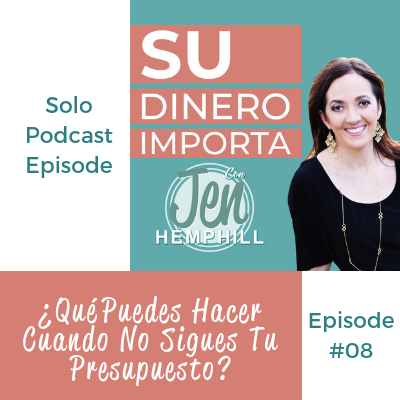 El tema del presupuesto es algo que le da miedo a mucha gente. No sabes cuántas veces he escuchado lo siguiente: "Empecé un presupuesto pero no lo seguí y dejé de usarlo".
En el show de hoy vamos hablar de lo que puedes hacer para ser consistente en usar el presupuesto.
Spanish Barometer: approximately 90% en español
Lo que aprenderás en el episodio de hoy:
Las dos preguntas que debes hacerte para poder abordar el problema

¿Por qué todo señala a la importancia del presupuesto?

Como te puedes asegurar de que estás utilizando la herramienta adecuada para su presupuesto

Cómo prepararse para el éxito y ser consistente con el presupuesto
Resources From This Episode:
You can join our community (and receive our weekly newsletters) by grabbing The Daily Dinero Ritual!
[English version on Her Money Matters] HMM 004: What To Do When You Don't Stick To Your Budget
I want to hear from you! What was your favorite takeaway from this episode? Please come on over to our community and share with us there.
Abrazos + Much Love,
Jen
P.S. THANK YOU for listening!
The post, Que Puedes Hacer Cuando No Sigues Tu Presupuesto | SDI 8 appeared first on the Su Dinero Importa Podcast