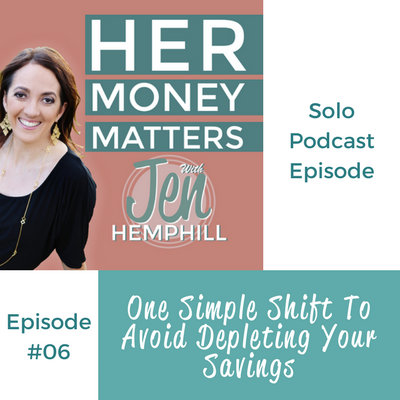 Have you ever had this happen to you?
Let me paint a brief picture:  You are on the roll, saving money, you are loving seeing your savings grow and then poof!  It disappears because there was an emergency, an unexpected expense, or something similar.
It's not a good feeling, in fact it really hurts!  In this episode I discuss one simple shift you can make to avoid depleting your savings.
Listen to the Episode Below
What You'll Learn In Today's Episode:
How to change your thinking of what savings should be
The types of savings you should have (there is one you are probably missing out on)
How to define how much to save
The importance of setting clear boundaries
What kind of magic automation works when you have to take savings out
Resource From This Episode:
Grab Your Copy of the Jumpstart Your Money Mini-Guide HERE
Now the spotlight is on you.  Where do you stand?  What type of savings do you currently have?
Abrazos (**hugs**),
Jen
P.S. THANK YOU for listening!
Enjoy The Show?
Be sure to never miss an episode:
Share with a friend by using the social media icons below.
Send us feedback via email to support@jenhemphill.com or click here to leave a voicemail.
**Please note I love to give shout outs to my listeners, so if you'd rather me not mention your email message or play your voicemail on the show be sure to clearly state that, thank you!**