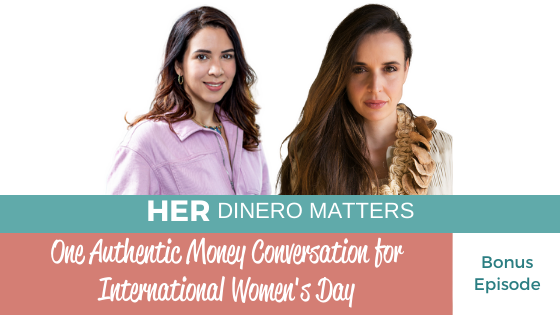 Did you know that the U.S. has 12.3 million women-owned businesses? For International Women's Day, I wanted to do this special bonus episode to celebrate with you. This day is meant to acknowledge women's rights and to help forge a gender-equal world in every area. To celebrate International Women's Day we are going to focus our discussion on women business owners because we can achieve so much more when we support each other.
 In this bonus episode, I invited two fabulous business owners. Carolina Campanelli, business executive and founder of Nova Bossa, and Daniella Senior, founder of Serenata and Zumo, both part of La Cosecha Market in Washington D.C. They are here to share with us how their entrepreneur journey began, and the challenges women business owners face.
Listen to the Episode Below
What you'll learn about in today's episode:
How Daniela and Carolina started as entrepreneurs at an early age.

What La Cosecha is and how it helps women business owners

The challenges  and needs women entrepreneurs face

The woman in each of their lives who has had the most influence on them
Resources From This Episode:
Daniella on Instagram: Daniella Senior
↳ Colada shop's website: Colada Shop
On Instagram you can also check out @zumodc and @serenatadc
Carolina on Instagram: Kika Campanelli
↳ Nova Bossa's website: Nova Bossa
On Instagram you can also check out @novabossaliving
La Cosecha Market's website: La Cosecha Market 
Don't forget to register for Financially Strong Latina! CLICK HERE TO GRAB YOUR SPOT (it's FREE) thanks to the sponsorship of AARP.
One more thing! After you register,  please go to the Facebook event page here! Mark "going" and this will give more visibility so more women can be in control of their financial life. Be sure to share with your familia and amigas. Thank you!
You can join our community (and receive our weekly newsletters) by grabbing The Daily Dinero Ritual!
☕️☕️☕️☕️☕️☕️☕️☕️☕️☕️☕️☕️☕️☕️☕️☕️☕️☕️☕️☕️☕️
I want to hear from you!  What was your favorite takeaway from this episode? Come on over to @Jenhemphill on Instagram and share it with us there.
Abrazos + Much Love,
Jen
P.S. ¡GRACIAS por escuchar! THANKS for listening!
Enjoy the Show?
Be sure to never miss an episode by hitting the subscribe or follow button on your favorite podcast app! Get instant notifications of the latest episodes now!
Be sure to share with a friend (or two)! You never know what someone is going through in their financial life. Here is a tweet you can share now:
Have Feedback?
Send us feedback via email to support@jenhemphill.com or click here to leave a voicemail.
The post, One Authentic Money Conversation for International Women's Day | Bonus Episode appeared first on the Her Dinero Matters Podcast.