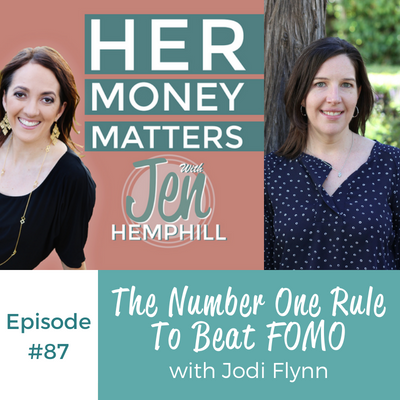 FOMO (Fear of Missing Out), this is one challenge Jodi Flynn has had and has been able to overcome with this one simple rule.
Then there was the message she received growing up: "Giving is good, receiving is not."
This is a snippet of what we get to see as we get a special glimpse of her money story and the lessons she learned.
Listen to the Episode Below
What You'll Learn In Today's Episode:
How a magazine article she read a long time ago shaped not only how she views her finances but how she treats her business as well

The lesson in learning your personal skills to make more money

Why she feels strongly about success coming more than once

Her number one rule to help her beat FOMO (fear of missing out)
Her Background
Jodi was born to a family of 10, with her father being a plumber, and her mother a homeworker. They were very generous with their time and money, and contributed as much as they could to help those less fortunate, and to their church. Her parents gave freely without expectations however were not open to receiving.
She shares her views on how women have a hard time negotiating their value, whether it's for a job or for their business. Having been brought up to give and not receive, Jodi shares her own challenges honoring her worth and receiving compensation for her work. Through the years she has broken down her own barriers and found the tools and awareness to receive fair compensation for her work, and now teaches this to other women.
The Best Money Advice She Ever Received
In revealing the best money advice Jody has ever received, she tells the story of how she was reading a magazine about women and money. Although she can not remember the name of the magazine, the advice invaluable – Treat yourself like you are a business. For her logical mind, this made total sense, and allowed her to see her finances in a completely different light, as well as her attributes and potential in a way she couldn't quantify before .
Her Money Mindset and Processes
Jodi easily invests her money in herself, be it for education and learning new skills, leveraging her business, or even eating healthy and doing activities. She knows the value of investing money in herself and in her business.
In terms of challenges with money, Jodi finds the contrast of a regular paycheck versus the fluctuating income being self-employed brings, the most difficult thing to manage.
Recently she has applied a new way of budgeting that involves knowing the minimum monetary requirement she needs, and having a plan for anything extra.
She makes a point of checking in with her finances at least once a week, and planning for the next 30 days of income. Jodi favors the use of spreadsheets, and along with awareness, tools and planning, used them to get completely out of debt when she was 32, which was her proudest money moment to date.
FOMO and Her Worst Purchase
However, she like everyone is not immune to the ever powerful marketing tactics companies use to create the FOMO (Fear of Losing Out) syndrome.
Her worst purchase? Buying a piece of software that was over $1,000 that she didn't need yet, but that was on such a great promotion. She repeated this on three different occasions, and ended up using the programs either very little, or not at all. She now has a steadfast rule around software purchases – if she didn't need it before the sale, she doesn't need it now.
Her Money Matters because…
"Money is a tool. It's access to the thing that you want, so if you take care of that tool, the tool will take care of you!" ~ Jodi Flynn
Mentions
The Miracle Morning by Hal Elrod: Purchase it HERE.**
The program PowerPay is a great tool to help you pay down your debt. Find it at https://powerpay.org/.
Links
You can find Jodi on her website at https://womentakingthelead.com/about/
Purchase her book HERE. **
Women Taking The Lead Podcast where she interviews me: https://womentakingthelead.com/jen-hemphill/
HMM 42: The Truth About Big Businesses And How You Spend
Learn more on the 5-Day Budget RESET Challenge HERE
**Please note the link is an affiliate link so I may receive a small commission if you purchase**
Don't forget if you struggle with budgeting to join us in the 5-Day Budget RESET (it's free)! You can check out the details and sign up over here: www.jenhemphill.com/budgetreset
I want to hear from you! What was your favorite takeaway from this episode? Please share in the comments below or come on over to our community and share with us there.
You can join our community (and receive our weekly newsletters) by grabbing The Daily Dinero Ritual!
Abrazos + Much Love,
Jen
P.S. THANK YOU for listening!
Enjoy The Show?
Be sure to never miss an episode:
Share with a friend by using the social media icons below.
Send us feedback via email to support@jenhemphill.com or click here to leave a voicemail.
**Please note I love to give shout outs to my listeners, so if you'd rather me not mention your email message or play your voicemail on the show be sure to clearly state that, thank you!**