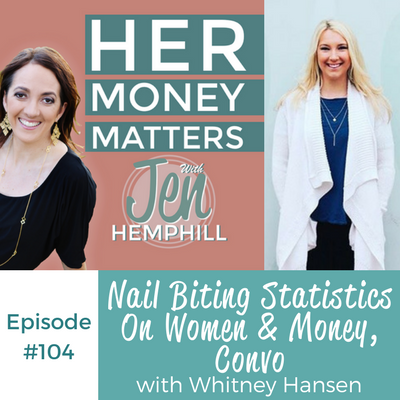 Today we welcome Whitney Hansen to the show.  She is a money coach, an IG extraordinaire, an avid traveler, an all around cool, down to earth person and the host of The Money Nerds podcast.  
I am so happy to have her back for a second time, and today we are discussing some statistics on women and money and our personal reflections on what that means.   
Listen to the Episode Below
What you'll learn about in today's episode:
4 nail biting statistics on women and money that you need to be aware of and what it means to you

Your quality of life, money and what you should consider

How the cloud over your head can affect your financial well-being

Why being prepared matters when you don't have control over other aspects of your life

Using those available resources around you to financially educate yourself (hint, hint there is one in particular that is coming up soon and it's free)
Why Whitney is so Passionate About Women and Money
Growing up, Whitney saw firsthand what can happen when women fail to get involved in the finances.   They get into a relationship and blindly trust their spouse, and very often end up divorced, widowed and alone, with a huge financial burden and no clue on how to go about dealing with it.  
Some statistics and facts to note:
54% of women have no money left after paying their bills;

No money for retirement, fun or emergencies;

Affects the quality of life – an emotional killer.

35% of single women have a retirement account;

Means over half do not have a retirement account;

Younger women, millennial women in particular are waiting until age 30 on average to get married which means 65% are without a retirement.

The average age of widowhood for women is 55 years old.

This statistics illustrates the huge importance of women having a retirement fund, and learning how to manage their finances.

Women are more likely to become single parents.

Once again, the importance of having an excellent handle on finances and a plan for the future is front and center.

Whitney saw this firsthand with her mom when she became a single parent to 6 children, with no support from their father.

In addition to the emotional challenge of being in this position, adding financial stress to the equation is overloading.
Whitney's Money Summit
Whitney will be hosting The Money Summit in July 2017.  She created this summit because she is super passionate about women and money, and wanted to create this community where women can support and learn from each other.
While Whitney won't be speaking herself, she will have 30 speakers in webinar style, who will present tangible and actionable steps that viewers can start implementing immediately.  This event will be held on Facebook Live, back to back, along with some replays for 3 days, and an opportunity to purchase all of the content later on.  
It is free to attend the summit live.  The summit runs July 20-22 and attendees will be able to ask questions live.  The speaker can then share and respond to those questions with the audience as well.   To register, go to Whitney's website at www.WhitneyHansen.com/moneysummit.
Links:
Whitney's Money Summit:  http://www.whitneyhansen.com/moneysummit
Episode 17  (The episode I first interviewed Whitney on!)
I want to hear from you!  What was your favorite takeaway from this episode? Please come on over to our community and share with us there.
You can join our community (and receive our weekly newsletters) by grabbing The Daily Dinero Ritual!
Abrazos + Much Love,
Jen
P.S. THANK YOU for listening!
Enjoy The Show?
Be sure to never miss an episode:
Share with a friend by using the social media icons below.
Send us feedback via email to support@jenhemphill.com or click here to leave a voicemail.
**Please note I love to give shout outs to my listeners, so if you'd rather me not mention your email message or play your voicemail on the show be sure to clearly state that, thank you!**