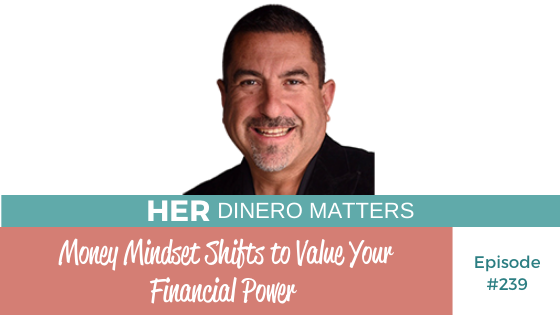 Have you ever stopped to think about how your upbringing has influenced your mindset around money and how this affects your relationship with money? For many of us as Latinas, we grew up seeing our parents working two jobs to make ends meet and were surrounded by the concept that money was scarce. Let's be honest, many of us still struggle with that scarcity mentality popping up in our thoughts even if we have managed to reach a more stable financial journey than the one we lived while growing up.
Money mindset is so important and Ernie G. is here to inspire us into making those money mindset shifts to value our financial power! He shares with us his money story of also growing up with the idea that money was scarce and that saving money was only for rich people and how he has learned to embrace being a King and change his own relationship with money and power.
Listen to the Episode Below
What you'll learn about in today's episode:
How to change that poverty mentality that plagues us

Why it is important to make money flow

How our relationship to our money and our power is always developing

How to value yourself as the Reina that you are
Money is Everywhere
After growing up with a poverty mentality but understanding that some people around him had figured out how to create some wealth, Ernie G. learned that money is everywhere and we get to determine our own experiences through our mindset and what we tell ourselves. He shares how this concept of money being everywhere and the importance of not letting a digit affect his outlook on life, transformed his relationship with money.
He highlights the importance of focusing on what you are passionate about to keep money flowing and how it directly correlates with the laws of abundance.
Our Relationship to Our Money and Power is ALWAYS Evolving
Throughout his career, Ernie G. has experienced failure and it wasn't until he realized and shifted his own limiting beliefs that he truly saw a transformation. He shares the different mindsets between generations, compared to Millennials and younger generations based on the different upbringings.
He mentions his participation in the film "We Rise Up" alongside many other globally recognized leaders and how he minimized himself through his words when asked how he was chosen to participate. Ernie G. realized his limiting beliefs were still present and with the help of his friend, Kate Maloney, who scolded him for thinking he didn't belong or that he wasn't at the same level as the rest of the leaders present that day. It is definitely important to shift your thoughts and really determine the story you want to tell yourself.
Valuing Yourself
In this powerful episode, Ernie G. reminds us to be true to ourselves, and the importance of respecting and loving yourself first, for others to value you in that same respect!
"You are a Queen and you must act like a Queen" – Ernie G. 
Resources From This Episode:
If you want to connect with Ernie G, you can visit www.ErnieG.com
Enrollment is now open for the Her Dinero Power Circle. Get a special discount for a limited time using the code FANSONLY. Get all the details here: jenhemphill.com/powercircle
You can join our community (and receive our weekly newsletters) by grabbing The Daily Dinero Ritual!
Want to get social? Let's connect more on Instagram @herdineromatters
☕️☕️☕️☕️☕️☕️☕️☕️☕️☕️☕️☕️☕️☕️☕️☕️☕️☕️☕️☕️☕️
I want to hear from you!  What was your favorite takeaway from this episode? Come on over to @HerDineroMatters on Instagram and share it with us there.
Abrazos + Much Love,
Jen
P.S. ¡GRACIAS por escuchar! THANKS for listening!
Enjoy the Show?
Be sure to never miss an episode by hitting the subscribe or follow button on your favorite podcast app! Get instant notifications of the latest episodes now!
Be sure to share with a friend (or two)! You never know what someone is going through in their financial life. Here is a tweet you can share now:
Have Feedback?
Send us feedback via email to support@jenhemphill.com or click here to leave a voicemail.
The post, Money Mindset Shifts to Value Your Financial Power | HDM 239 appeared first on the Her Dinero Matters Podcast.