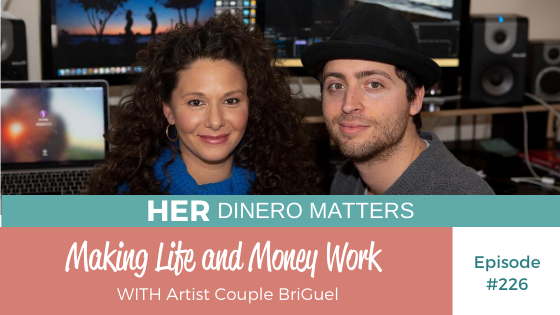 Meet artist couple BriGuel as they talk about how they make life and money work for them in a difficult industry. Have you ever been curious about the behind-the-scenes life of an artist, especially when it comes to money? Get ready, because that's exactly what this episode is about.
BriGuel is an artist couple, producing film and music with an uplifting message. BriGuel is the collective name of Brianne and Miguel, who are on a mission to help all humans to enjoy life with the work they create.
A few years ago Miguel hired Brianne to co-produce his short film, "Fly Away," and they have not left each other's side since. They've created short films, corporate mini-docs, music videos, features, and documentaries, both for themselves and for their clients.
Making life and money work for you as an artist can be a challenge. Now imagine you and your partner are both making a living as artists. That is exactly what Brianne and Miguel – aka Briguel – do, and they do it well.
Wondering how you can manage your money even in a difficult industry? Or with other challenges? It really boils down to your outlook on life and belief in what you do. In other words, your money story.
In this episode, you'll learn more about how Brianne and Miguel make life and money work for them while putting a little more light in the world through their work, or as they say in Spain, 'pon tu granito de arena,' which means "make your contribution."
Listen to the Episode Below
What you'll learn about in today's episode:
The impact the Holocaust had on both of their families and its significance for their money stories

Lessons they want to pass on to their daughter

How this couple navigates the financial waters in the difficult industry they work in

What we can look forward to seeing with their work
Resources From This Episode:
Connect with BriGuel on Instagram @wearebriguel 
Grab your Daily Dinero Ritual
Nominate a mujer (woman) for Reina of the Week here: www.jenhemphill.com/reinaoftheweek
☕️☕️☕️☕️☕️☕️☕️☕️☕️☕️☕️☕️☕️☕️☕️☕️☕️☕️☕️☕️☕️
I want to hear from you!  What was your favorite takeaway from this episode? Come on over to @HerDineroMatters on Instagram and share it with us there.
Abrazos + Much Love,
Jen
P.S. ¡GRACIAS por escuchar! THANKS for listening!
Enjoy the Show?
Be sure to never miss an episode by hitting the subscribe or follow button on your favorite podcast app! Get instant notifications of the latest episodes now!
Be sure to share with a friend (or two)! You never know what someone is going through in their financial life. Here is a tweet you can share now:
Have Feedback?
Send us feedback via email to support@jenhemphill.com or click here to leave a voicemail.
The post, Making Life and Money Work With Artist Couple BriGuel | HDM 226, appeared first on the Her Dinero Matters Podcast.