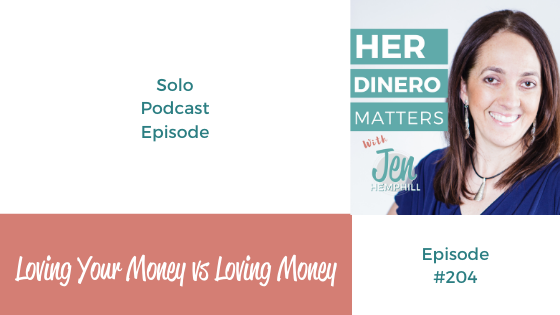 The sheer thought of loving your money may bring some not so enjoyable feelings.
We weren't taught to love money, in fact, there are many of us that got many messages of how loving your money meant greed and how you shouldn't hoard your money. If this is you, press play now as it will be well worth your time.
Listen to the Episode Below
What you'll learn about in today's episode:
The lifelong partnership with your money that we don't acknowledge

Why loving your money is important

The difference between loving your money and loving money (and why it matters)

3 ways to start loving your money now
Resources From This Episode:
Give the #LoveYourDinero Playlist on Spotify a listen!
Be taken to the web version by clicking here.
Click here if you want to listen straight from the Spotify app!
Nominate a mujer (woman) for Reina of the Week here: www.jenhemphill.com/reinaoftheweek
Hop on over to the Himalaya App and get the details for the Cafecito Lounge! Use the code DINERO for a 30 day free trial.  
You can join our community (and receive our weekly newsletters) by grabbing The Daily Dinero Ritual!
☕️☕️☕️☕️☕️☕️☕️☕️☕️☕️☕️☕️☕️☕️☕️☕️☕️☕️☕️☕️☕️
I want to hear from you!  What was your favorite takeaway from this episode? Come on over to @HerDineroMatters on Instagram and share it with us there.
Abrazos + Much Love,
Jen
P.S. ¡GRACIAS por escuchar! THANKS for listening!
Enjoy the Show?
Be sure to never miss an episode by hitting the subscribe or follow button on your favorite podcast app! Get instant notifications of the latest episodes now!
Be sure to share with a friend (or two), you never know what someone is going through in their financial life. Here is a tweet you can share now:
Have Feedback?
Send us feedback via email to support@jenhemphill.com or click here to leave a voicemail.
The post, Loving Your Money vs Loving Money|HDM 204 appeared first on the Her Dinero Matters Podcast