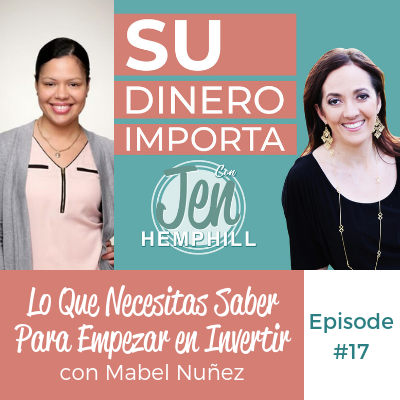 ¿Te asusta invertir? ¿Quizás no sabes por dónde empezar?
En este episodio, Mabel Nuñez comparte con nosotros algunas piezas fundamentales que nos darán un buen comienzo con la inversión.
El Spanish Barometer de hoy es el 90%
__________________________________________
What You Need to Know to Start Investing with Mabel Nuñez | SDI 17
Does investing scare you? Maybe you don't know where to start?
In this episode Mabel Nuñez shares with us some foundational pieces which will give us a strong start with investing.
Spanish Barometer for today is 90%
Listen to the Episode Below
Si tienes prisa pase sobre la marca de tiempo entre corchetes y haz un clic, de hay la llevará directamente a ese lugar en el episodio!
(If you are in a hurry hover over the time stamp in the brackets and click, it will take you straight to that spot in the episode!)
Lo que aprenderas en episodio de hoy (What you'll learn about in today's episode):
Dos razones las cuales nuestra comunidad Latina no invierte. (Two reasons our Latino community does not invest.) 

[8:20]

3 cosas que uno tiene que hacer en alistarse bien para invertir. (3 tasks that one has to do in getting ready to invest.) 

[10:44]

Los dos primeros pasos en invertir que no se debe ignorar. (The first two steps in investing that should not be ignored.) 

[19:17]
Resources From This Episode:
You can join our community (and receive our weekly newsletters) by grabbing The Daily Dinero Ritual!
Abrazos + Much Love,
Jen
P.S. ¡GRACIAS por escuchar! THANKS for listening!
The post, Lo Que Necesitas Saber Para Empezar en Invertir con Mabel Nuñez | SDI 17 appeared first on the Su Dinero Importa Podcast