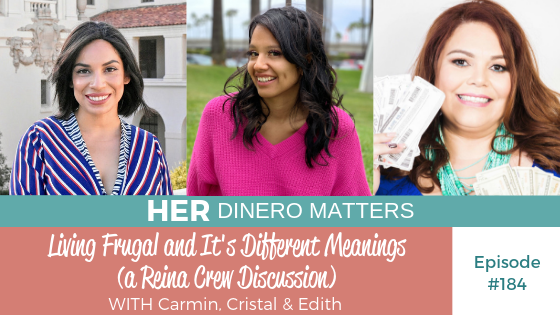 Does living frugal describe your way of life? Or maybe you want to be more frugal but haven't been successful with it.
In this episode, the Reina Crew has an in-depth discussion on frugality which will for sure change your view on the matter.
A little bit about our panelists for this episode:
🙋🏻‍♀️ Carmin Hermosillo is a Mexican American financial literacy advocate and blogger who shares what she has learned about money while working in the banking and investment industry. She found herself in money struggles herself and had to learn how to treat money differently. Carmin is Secretary of a non profit organization called The Financially Fit Foundation and is a workshop presenter on teaching the basics on how to budget.
🙋🏻‍♀️ As the writer and host of the soon to be launched podcast Changing My Story, Cristal Ruiz helps people realize that you are not alone in whatever you may be going through. Cristal shares stories to inspire you to change your story one step at a time.
🙋🏻‍♀️ Edith Tapia, since 2001 has been providing free orientation to thousands of Latino families about how to maximize savings using discount coupons through her CuponeandoPR.net blog. She has collaborated on few radio and television shows, such as: "Telenoticias de Telemundo," "Tu Medio Día de Univisión," Edith has worked with over 60 top brands as well during her blogging career: Prudential, Chase, Disney, Uber, to name a few.
Listen to the Episode Below
What you'll learn about in today's episode:
The various ways frugal can look like for different people

An interesting discussion and perspectives on the difference between cheap vs frugal

Some valuable lessons on frugality you don't want to ignore
Pregunta of the Week:
🤔 How do you differentiate cheap vs frugal? 🤔
Use your free account in the Her Dinero Matters Hub to submit your answer and be one step closer to this month's freebie!
Have your free account? Click here to get taken directly to this week's question.
Don't have a free account, yet? No worries click here to get started (and submit your answer).
Resources From This Episode:
Connect with Carmin on Instagram: @_crazysexyfinance
Connect with Cristal on Instagram: @changingmystory
Edith's blog: CuponeandoPR.net
You can join our community (and receive our weekly newsletters) by grabbing The Daily Dinero Ritual!
Nominate a mujer (woman) for Reina of the Week here: www.jenhemphill.com/reinaoftheweek
☕️☕️☕️☕️☕️☕️☕️☕️☕️☕️☕️☕️☕️☕️☕️☕️☕️☕️☕️☕️☕️
I want to hear from you!  What was your favorite takeaway from this episode? Come on over to @HerDineroMatters on Instagram and share it with us there.
Abrazos + Much Love,
Jen
P.S. ¡GRACIAS por escuchar! THANKS for listening!
Enjoy The Show?
Be sure to never miss an episode:
Share with a friend by using the social media icons below.
Send us feedback via email to support@jenhemphill.com or click here to leave a voicemail.
The post, Living Frugal and It's Different Meanings (a Reina Crew Discussion)|HDM 184 appeared first on the Her Dinero Matters Podcast.