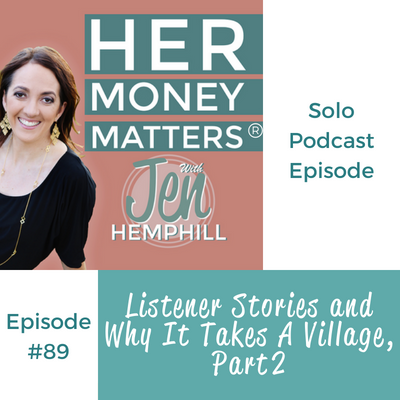 Last week you met Kathi, Christina and Laura.  You learned about their struggles with money and where they are now.  
This week we continue with the listener stories as we talk with Julie, Darla, and Malini!!
You'll hear why it truly takes a village.
Listen to the Episode Below
Enrollment for the Fearless Money Sisterhood open Now!
Julie's Fearless Money Sisterhood Story
Who is Julie:
Julie is from Munich Germany and works as a social media manager.   
Before Joining:
Before joining FMS, Julie was a typical girl who loved to spend and didn't really look at her bills.  She managed to accumulate $10,000 Euros in debt.  She paid the minimum but was not ready to deal with it.  More importantly, she did not have anyone to talk to about it, or get help from.     
Since Joining:
After listening to the Her Money Matters podcast, Julie joined the FMS.  Due to the support and help she received in the community, Julie dealt with her debt head on, made a plan, paid it off and now has some healthy money habits.    
Her Favorite Part:
Julie loves that the community is very supportive, and greatly benefitted from the materials and workshops. Her accountability partner was also instrumental in helping her change her money mindset.
Why She Recommends FMS:
Julie shares that anyone would benefit from FMS as they can discuss money openly,  give you confidence to deal with your money issues head on.  
Darla's Fearless Money Sisterhood Story
Who is Darla:
Darla is an interior designer who loves the outdoors.  She is also a yoga teacher, and loves personal development.  
Before Joining:
Before joining the FMS, Darla's finances were a self-proclaimed mess.   She had tried to get things in order, but got stuck.  When she found herself laid off from her job, she cut her cable so she could afford FMS, as she knew she needed help.  
Since Joining:
Darla found her confidence and without going into debt, managed to successfully navigate a much lowered cash flow, as well as accumulate an emergency fund of $5000.  If you are feeling hesitant about joining FMS because of the cost, Darla recommends looking into your cash flow, and see if there is something you can cut out and reallocate the money towards the membership fee so you can get your finances in order.   
Her Favorite Part:
Darla loves the variety of tools that are offered in the community, and the great collaboration between members.  The safe environment helped her to feel OK where she was at, and to stay accountable with her money.  
Why She Recommends FMS:
It will change the way you look at your money, the way you work with your money and the way you see your money.  It just happens!  
Malini's Fearless Money Sisterhood Story
Who is Malini:
Malini is from New York City, and she is an artist in the world of theater.  She is a publicist, producer, and a director.  She has a company called Theater Beyond Broadway that fosters and promotes the independent artist.  She also works part-time in law so she wears many hats.
Before Joining:
Malini had hit a block, right as she was in the midst of working on many projects and had overscheduled her life.  A retreat she went on brought up the fact that she had a lot of discomfort around her clutter and her finances, so she decided to take action.
Since Joining:
Since joining, Malini has a much better understanding of the steps needed to get where she wanted to be financially and is much more comfortable dealing with her money and her money stories.
Her Favorite Part:
Malini's favorite part of FMS is definitely the accountability.  She claims herself to be at times lazy, and the group kept her on track.
Why She Recommends FMS:
Malini recommends FMS because the cost is well worth the return on the investment, and you can budget out for the time you need to be in the community to learn what you need.  She also shares that Jen is very accessible, so she never feels alone in the group!
Resources From This Episode:
In case you missed last week's episode:  www.jenhemphill.com/88
Enroll in the Fearless Money Sisterhood TODAY:  [Put your name on the waitlist] https://jenhemphill.com/interested
**Enrollment Closes Friday, February 17th 11:59pm EST**
What did you love about today's episode?  Please share in the comments below or come on over to our community and share with us there.
You can join our community (and receive our weekly newsletters) by grabbing The Daily Dinero Ritual!
Abrazos + Much Love,
Jen
P.S. THANK YOU for listening!
Enjoy The Show?
Be sure to never miss an episode:
Share with a friend by using the social media icons below.
Send us feedback via email to support@jenhemphill.com or click here to leave a voicemail.
**Please note I love to give shout outs to my listeners, so if you'd rather me not mention your email message or play your voicemail on the show be sure to clearly state that, thank you!**