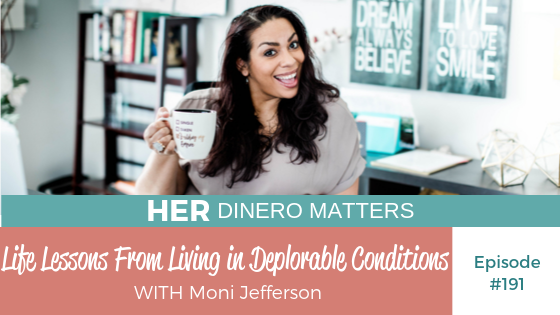 Each of our journeys is unique and this week's guest Moni Jefferson has truly an inspiring story.
From living in deplorable conditions to bouncing a rent check, paying for beers in quarters and pennies….all helping her grow and move forward in her financial journey.
Make sure to listen for all the details of her money story as it has led her to become a successful entrepreneur managing multiple businesses!
Listen to the Episode Below
What you'll learn about in today's episode:
What changed after living in a roach-infested place (and realizing she was buying beer with quarters & pennies)

The lesson she learned after bouncing her rent check

The real reason she left Mary Kay after being super successful with them

Her experience in owning 9 properties, what she learned and what she is doing now
Pregunta of the Week:
🤔 What did Moni do after bouncing that rent check for the nice condo they lived in? 🤔
Use your free account in the Her Dinero Matters Hub to submit your answer and be one step closer to this month's freebie!
Have your free account? Click here to get taken directly to this week's question.
Don't have a free account, yet? No worries click here to get started (and submit your answer).
Resources From This Episode:
You can join our community (and receive our weekly newsletters) by grabbing The Daily Dinero Ritual!
Nominate a mujer (woman) for Reina of the Week here: www.jenhemphill.com/reinaoftheweek
☕️☕️☕️☕️☕️☕️☕️☕️☕️☕️☕️☕️☕️☕️☕️☕️☕️☕️☕️☕️☕️
I want to hear from you!  What was your favorite takeaway from this episode? Come on over to @HerDineroMatters on Instagram and share it with us there.
Abrazos + Much Love,
Jen
P.S. ¡GRACIAS por escuchar! THANKS for listening!
Enjoy The Show?
Be sure to never miss an episode:
Share with a friend by using the social media icons below.
Send us feedback via email to support@jenhemphill.com or click here to leave a voicemail.
The post, Life Lessons From Living in Deplorable Conditions with Moni Jefferson | HDM 191 appeared first on the Her Dinero Matters Podcast