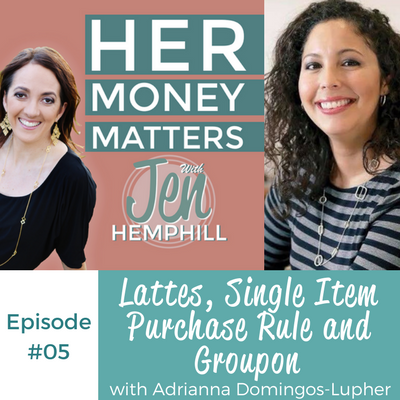 It's so exciting to share with you my second guest on the podcast where I have the privilege to  showcase some fabulous women from all over.  This particular guest is not exception as she surpasses fabulous.
In this episode I speak to serial entrepreneur Adrianna Domingos-Lupher of MSB New Media, NextGen Mil Spouse, and SpouseBox.  You will find her a very enjoyable person to listen to and probably laugh as many times as I did (or maybe even more).  Adrianna is down-to-earth, a wealth of knowledge and loves her lattes.
Listen to the Episode Below
What You'll Learn In Today's Episode:
You'll hear what Adrianna considers the best money she's ever spent
She'll discuss her household's single item purchase rule
How putting savings on autopilot has helped her with the worries of not having enough
You will also learn about her scan and scrub strategy her and her husband use to keep their finances in check
PLUS, don't miss out on the valuable experience she had with Groupon!
Resources From This Episode:
Best place to get to know Adrianna:  CLICK HERE
MSB New Media
NextGenMilSpouse
I'd love to hear from you, do you have your savings automated yet?  Be sure to leave me a comment below :-).
Abrazos (**hugs**),
Jen
P.S. THANK YOU for listening!
Enjoy The Show?
Be sure to never miss an episode:
Share with a friend by using the social media icons below.
Send us feedback via email to support@jenhemphill.com or click here to leave a voicemail.
**Please note I love to give shout outs to my listeners, so if you'd rather me not mention your email message or play your voicemail on the show be sure to clearly state that, thank you!**