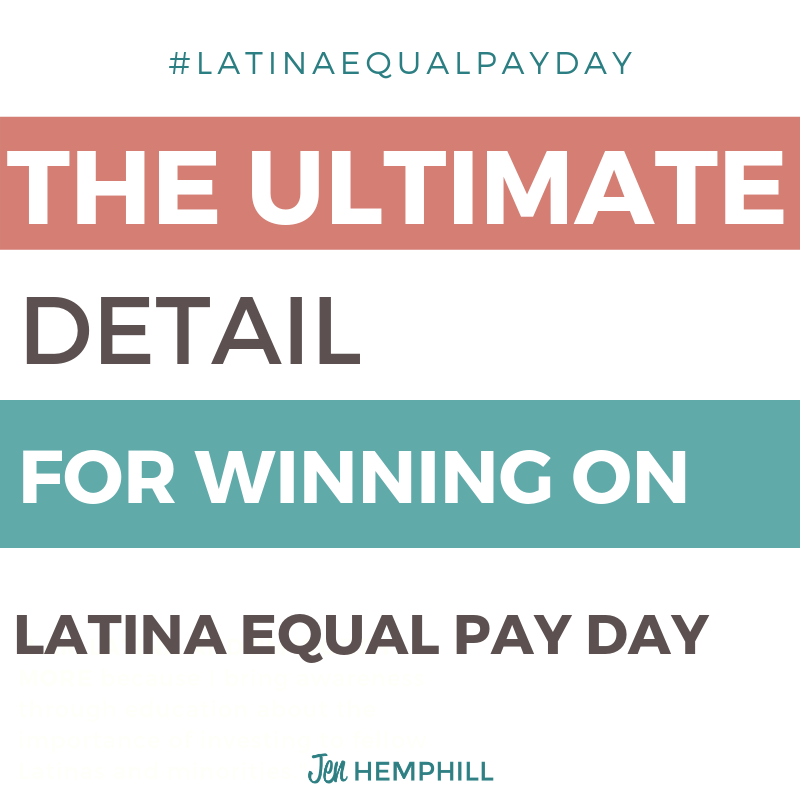 Latina Equal Pay Day is a day where we recognize the huge income disparity in what Latina women make in comparison to men.
This year Latina Equal Pay Day is officially November 1st (that's today🙌🏼). It is also a day where we voice how unjust this is and attempt to gain the attention (and change) from the powers that be.
HERE IS THE REALITY:
"Latinas account for close to $1 trillion in U.S. buying power, but earn on average only 53 cents to the dollar paid to men."
"It is estimated that Latina workers stand to lose more than $1 million over a 40-year period due to the wage gap."
"Latinas would have to work 74 more years to earn the same amount as white non-Hispanic men."
THE ULTIMATE DETAIL FOR WINNING ON LATINA EQUAL PAY DAY (today and beyond): 
Although our voices have gotten stronger and advocacy efforts about the unjust inequality has improved over the years, it is not enough. We need to do more than advocate.
We can advocate all we want and some change may happen, but the bigger change comes when we do the work from within.  
Working from within requires a better understanding of your own personal finances, which provides clarity and that in turn increases your financial confidence.
When you are financially confident and clear on your finances there is no doubt in my mind that you will ask for more money and become a better negotiator (aka contribute in shrinking that wage gap).
Why? Because you know where you stand financially and know exactly what it will take to get to where you want to be. Plus, with that confidence, there is no stopping you!
Fortunately you have the Su Dinero Importa podcast to help you along the way!
THERE ARE THREE THINGS YOU CAN DO RIGHT NOW:
💪🏼 Get involved TODAY, use the image below to share your voice! (just right-click and save)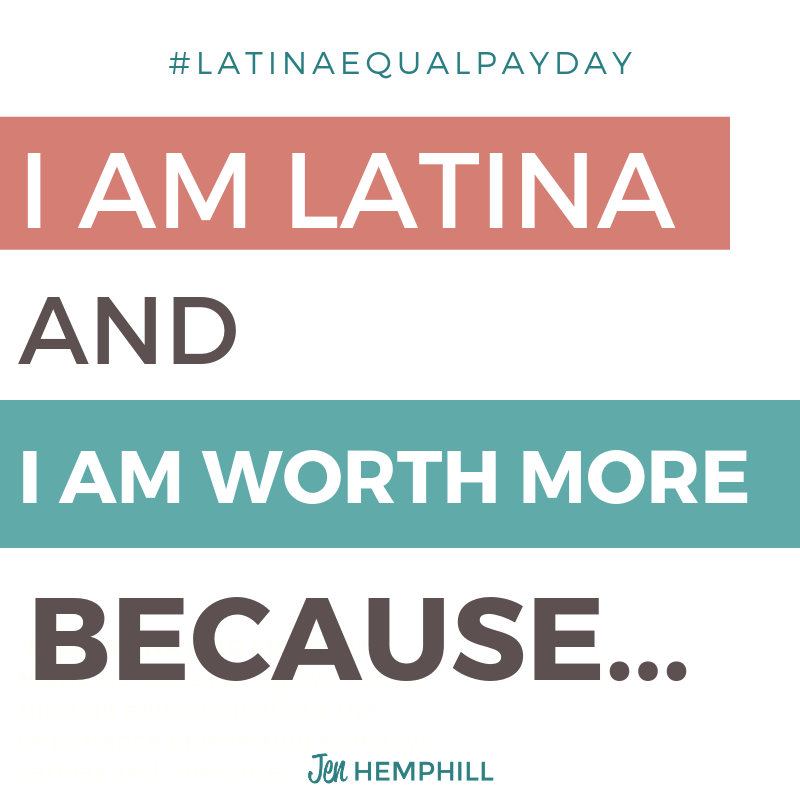 💪🏼 Listen to tomorrow's episode on the Su Dinero Importa podcast. I will be sharing with you THREE tips to help you shrink the wage gap.
💪🏼 Surround yourself by like-minded individuals. I've got some beautiful, trailblazing ladies to get your inspiration going with their words of wisdom…
"I'm Latina and I'm worth more because I bring a different perspective to Corporate environments. Diverse voices improve how you market to people of color through imagery and messaging. I'm also unafraid to go against the majority because growth is achieved when we challenge conventional thinking and make space for innovation. I can thank my grandfather for my unclosed mouth!" Monica M Rivera, Marketer by day, Podcaster by passion
"I am Latina and I'm worth more because I am multi-cultural, bilingual (which is great for memory & attention) and with these skills I'm helping companies grow their business worldwide." Lennis Perez, Wellness Coach & Chemical Engineer
"I'm Latina and I'm worth more because I'm fearless and will always get the job done!" Yirla Rubi Gonzalez Nolan, President at Faro Professional Services
"I'm Latina and I'm worth more because I bring awareness through education about the importance of investing to fellow Latinas and minorities. My mission includes reaching people that might not otherwise be exposed to the stock market and the incredible skill that is investing. My name is Mabel Nuñez and I am an investing educator."  
"I am Latina and I am worth more because I ask tough questions, challenge your way of thinking, and am graceful under fire." Librada Estrada, Leadership Coach, Facilitator, and Trainer
"I'm Latina and I am worth more because I am the person you come to when you want something done right. I am worth more because as a first-generation college student I've paved the path for my own success and am helping my community accomplish the same. I am worth more because when you pay me equally, you will see the money invested back to our local community and families. Don't sleep on Latinas. We are trailblazers and will not be forgotten." Dannielle Romoleroux, Personal Finance Blogger at First Gen Money
"I am Latina and I am worth more because I bring innovative ideas to the table. I work to inspire people to improve their lives, break barriers and make the world a better place. I am committed to giving back to our communities, and I am worth more because my mother and grandmother did not get more, I am worth more to break that cycle."  Pam Covarrubias, Chief Storyteller.
👏🏽👏🏽👏🏽👏🏽👏🏽👏🏽👏🏽👏🏽👏🏽👏🏽👏🏽👏🏽👏🏽👏🏽👏🏽👏🏽
AND for the overachievers, I've got some bonus actions for you!
BONUS ACTION #1: I will be sharing some posts on Instagram and Twitter and you can give the post some love and share away as well.
BONUS ACTION #2: Share this blog post with your friends so they too can participate in Latina Equal Pay Day!
Now it is your turn! Go ahead finish the phrase and be sure to share your answer this Latina Equal Pay Day using #LatinaEqualPayDay AND #SuDineroImporta on social media so we can read it!
What is your answer? "I am Latina and I am worth more because…"
You can also share with us in the comments below!
👉🏼Remember you are welcome to use the already created image for your social media post.
Abrazos + Much Love,
Jen