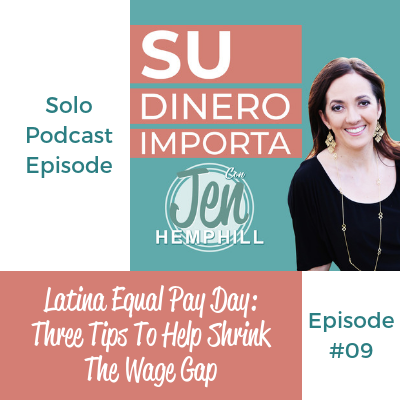 The official observation of Latina Equal Pay Day was November 1st, but the conversation undoubtedly continues. There is a lot of work to do and I share how we can each make an impact to shrinking that wage gap.
What You'll Learn In Today's Episode:
The critical stats and what we can learn from them

What having clarity on your finances has to do with the wage gap

The one factor that will no doubt help you contribute in shrinking the wage gap no matter where you stand

Three simple actions you can take right now which can initiate a domino effect of women becoming more powerful advocates of their money
Resources From This Episode:
https://www.latinaequalpay.org
https://www.nielsen.com/us/en/press-room/2017/hispanic-women-are-cultural-catalysts-as-entrepreneurship-education-rates-rise.html
I want to hear from you!  What was your favorite takeaway from this episode? Please come on over to our community and share with us there.
Abrazos + Much Love,
Jen
P.S. THANK YOU for listening!
The post, Latina Equal Pay Day: Three Tips To Help Shrink The Wage Gap | SDI 9 appeared first on the Su Dinero Importa Podcast